Borneo Exotics, the Sri Lankan company has done it again. They won their fourth Gold Medal at the prestigious Chelsea Flower Show 2011 held in London from May 24 – 28 for their exhibit 'An exhibition of Nepenthes in a natural forest setting'.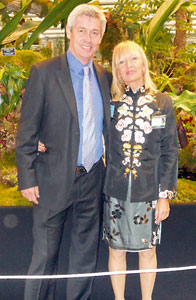 Robert Cantley and Diana Williams, directors of Borneo Exotics with their exhibit
The display features the latest artificially propagated hybrids created in their nurseries over many years, some of the plants being on display for the first time. The plants are all bare-rooted and were flown out for from the Borneo Exotics nurseries in Sri Lanka for the show. Many of the species are extremely rare and some are now believed extinct in the wild.
Three new cultivars, of selected primary hybrids, were launched at the show this year. Nepenthes 'Helen' named for Dame Helen Mirren, Nepenthes 'Princess', and Nepenthes 'Polar Prince' have been raised from seeds made by crossing parent plants which were also raised from legally obtained seeds. This process has taken more than 15 years. A new primary hybrid was also launched, from which the best cultivar has yet to be selected. This selection takes time as a large number of seeds from the new hybrid have to be cultivated to select the best specimen.
"The judging was beyond our expectations," said Robert Cantley, Managing Director of Borneo Exotics. "We got a gold with 100% points given by judges in all criteria (a first for us and very, very rare) and also have been nominated for consideration for three special annual Royal Horticultural Society awards. All of them are prestigious but the best is the Lawrence Medal for the best exhibit of any kind at all the flower shows in the whole of UK for 2011. There is no higher horticultural award possible anywhere in the world and just to be up for nomination is wonderful."
Borneo Exotics is a BOI approved export-oriented nursery, based in Sri Lanka, founded by Robert Cantley. Their experience with Nepenthes or pitcher plants goes back over twenty years, when they pioneered a Nepenthes nursery in Borneo in the 1980s. Since then, they have been propagating tropical pitcher plants of the genus nepenthes using up-to-date and conservation-friendly techniques.
They offer by far the widest range of Nepenthes available anywhere in the world and are the only nursery offering a choice of plant size, says Mr. Cantley. In Sri Lanka they now operate several nurseries in two locations. The tropical species of Nepenthes is cultivated in the lowland nursery at Moragahahena, while the temperate species is cultivated in the highland nursery at Lindula. These nurseries are said to be the largest for Nepenthes in the world.
Borneo Exotics also launched a new product at Chelsea -a self-watering unit that will enable anyone to grow Nepenthes at home with ease.
| | |
| --- | --- |
| | |
| Nepenthes Princess | Nepenthes Polar Prince |