Posthumous appreciations invariably reflect the sterling qualities and significant contributions made in that person's lifetime. I am honoured to write this appreciation of a colleague and friend - Collingwood Englebert Perera, popularly known as Collin Perera. A retired Senior Police Officer he distinguished himself both here and abroad leaving a shining example worthy of emulation by today's generation.
He was Sri Lanka's answer to the 'London Bobby', loved by everyone, touching the hearts of rich and poor alike. The nostalgic trail of memories he left will be etched in our hearts forever.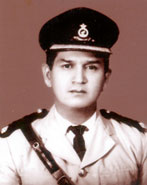 A true gentleman, Collin drew everyone to him with his soft-spoken ways. Possessed of a good tenor voice he enjoyed singing, was a voracious reader and had a remarkable penchant for contributing articles to the press regarding his life and experience in the remotest parts of the island. In sports he enjoyed wrestling but was also a physical culturist who won the Junior Mr. Ceylon title on two occasions. He played cricket and soccer for the Police, was a wildlife enthusiast with hunting and fishing as his hobbies and swimming his forte.
Collin was the son of Charles Walter Perera, a railway station master and Blanche Mary Perera, an English teacher, both government servants. Collin took his work seriously, was happily married to Sonia (nee Dias) and had one daughter Tania domiciled in Australia. A true church man, Collin was held in high esteem because of his Christian values - the piety, simplicity and honesty he radiated within his family life and his sharp professional and managerial skills. The self-discipline and common sense he possessed were his passport to the world.
An ace raconteur, many gathered around him at parties and dances to listen to his rich repertoire of stories, small revelations with big meanings. He enjoyed such gatherings and would regale his friends with stories in his own inimitable form of delivery.
Due to his father's constant transfers in government service, the family was repeatedly on the move. Collin had his early education at St. Joseph's College, Homagama and St. Mary's College, Chilaw and completed his University entrance at St. Benedict's College, Colombo, on his father's final transfer to Bambalapitiya. While awaiting results he was offered a position at the Registrar General's office, which he accepted. In 1952 he joined the Ceylon Police as a Sub-Inspector, one of a few enrolled to that rank.
The Police service was highly recognized and enlistments done purely on merit and on persons hailing from respectable family background.
Joining the Police, Collin left behind his vaulting ambition of pursuing higher studies and through honest work and diligence, he showed that anyone could be an 'all-rounder' with the right application of talents. Collin was a disciplined officer with unquestioned moral rectitude who inspired deep devotion in those who worked for him. Always kind and helpful, mostly to those in need, he embodied patience and equanimity - a salient factor of his life.
I was fortunate to work under his command, in the early stages of my career in 1973 at Galle, under the then SP in charge of the Galle Division, the late Mr. A. Navaratnam known as 'Nayaa' (snake). Mr. Navaratnam was a strict disciplinarian who exercised complete control over the area and brooked no interference with Police work. Unfortunately, the downfall of the Police force started then with the recruitment of Sinhala Only ASPP's, who were unable to function at top level due to the language barrier.
It was Collin who guided and looked after the novice Sinhala ASPP's whose rudimentary knowledge of English kept them down in the dumps. He guided them on how to tread the correct path. His knowledge of criminal investigation helped to make some of the newly recruited ASPPs like Kumara Pandivita and A.T. Fonseka reach the highest point of their professional achievements.
Collin served for more than 22 years in various parts of the island like Bandarawela, Wellawaya, Moneragala, Bandaragama, Panadura, Kalutara, Wadduwa, Horana, Moratuwa, Pettah, Tangalle, Galle and Hambantota. He had undergone overseas training in U.K. and Scotland Yard and later joined the Oman Police in charge of the Doha Division as Commander.
On his return to Sri Lanka, he was appointed Chief of Security at the Insurance Corporation under Lalith Athulathmudali. Here was a man of indomitable courage, blessed with a brilliant mind, a visionary pragmatic man of noble action.
Collin had a burning ambition to succeed against all odds and from relatively humble beginnings his love of learning and sheer hard work helped him to reach the pinnacle of success. He had carcinoma of the lungs and knew his health was deteriorating but managed his illness bravely having lived 75 long and hearty years, young at heart.
We mourn his passing yet remain conscious that all component things are subject to decay. Collin Perera was a versatile Police Officer, a gentleman in a class of his own who has etched his name in the hearts of all who knew him as a distinguished and honoured son of Mother Lanka!
Sarath Dhanapala
Farewell to a fine son of Bandarawela
Don Sarath Abesekera
I was greatly saddened by the demise of my beloved friend, Don Sarath Abeysekera. Our friendship goes back five-and-a-half decades. He was very close to me. Sarath came from a highly respected family in Dowa, a town close to Bandarawela.
He received his education at St. Joseph's College, Bandarawela, under the strict supervision of Brother Onorius, Brother Rudolph, and Mr. Solomon. He would often talk about these scholarly gentlemen. Sarath excelled in English language and Latin.
After leaving school, Sarath joined the Irrigation Department. This was just after Sri Lanka got its Independence. Sarath served in many parts of the country.
He was a strong Leftist and would not put up with injustice. He used his pen to point out weaknesses in the administration of Bandarawela. He worked hard to clean up the dirty road running through the Bandarawela railway tunnel.
Sarath was a member of Old Hindi Films and Song Lovers Association and had a good collection of books and papers on Uthtar Bharathiya music and cinema. I don't expect to meet anyone to equal my extraordinary friend. Dear Sarath, good-bye. May you attain the Supreme Bliss of Nirvana.
D.I. Rajapakse
Missing my sister, Chuti Akka
Kamani Priya Abesundara Jayawardena
It is three months since you left us. You have left a deep void in our hearts. We are a big family, and you were a true sister, just three years older than me. We went to school together, shared the same room, got married the same year, and worked for the same airline. You were my trusted confidante, and my friend.
It is hard to believe you are gone. Everything seems so strange without you. I miss all the little things you did to show me you cared, especially the phone call in the morning to ask how I was and what my plans for the day were. Sometimes memories bring comfort and make me smile. Your sense of humour was a source of much fun and laughter at family get-togethers. You expressed your views frankly when necessary.
There is not an hour that goes by without my thinking of my wonderful sister. You may be gone, but you are not forgotten. No words can express the pain of losing you. It was so sad to see you go slowly, during your last illness. There was nothing I could do.You have left behind a wonderful husband and a well brought up daughter.
I will try to find solace in religion and meet you in Sansara to attain with you the Supreme Bliss of Nibbana.
Hichchi (Nirmala Abeysekara)
To our beloved mother
Lady Marian Elizabeth Rodrigo
On her 100th Birth Anniversary
A radiant smile adorned her kindly face
She drew more lives to her with comely grace;
Her heart overflowing extended loving care
To all, yet she had more love to spare.
"To give one's life for the love of a friend
Is the greatest form of love" to expend;
She changed her course other needs to attend,
Her life was fruitful and blessed to the end.
She gave loyal support to her spouse, our dad,
To both their families and projects they did
Discipline and commitment she strictly applied
To all aspects of her life, till she died.
She was indeed our foremost teacher,
To be good citizens she trained son and daughters
To give of their love even beyond the home
Breaking barriers to reach them, who suffer alone.
'Tis our turn now to show our gratitude,
For being our "Shining Light" we pay her tribute.
While we praise God with thanks we sing along
To our beloved mother we dedicate this song.
From her children and their families.
(Written on their behalf by her daughter Noelyn Fernando.)
Ever the life of the party at the Immigration Department
Bernard Granville Warnesuriye
Mr. O. B. Ratnayake, Honorary General Secretary of the Association of Ex-Immigration Officers of Sri Lanka, conveyed to us the sad news of the sudden demise of the current President of the Association, Bernard Granville Warnesuriye. He passed away in Texas, in the United States, on April 13, while holidaying with his son.
I consider it my duty to pay humble tribute to this genial and versatile gentleman, who endeared himself to one and all. Granville was soft-spoken, gentle, kind, caring and gentlemanly.
He was associated with the Department of Immigration and Emigration for well over three decades. He served as Immigration Officer, Chief Immigration Officer, and finally as Assistant Controller. I had the privilege of working with him closely. He affectionately called me "Nanda." In days of yore, Immigration Officers were burdened with all kinds of tasks, from arrest and deportation of illicit immigrants to deporting over-stayers. This was in addition to Port duties, which involved night duty. Granville put his heart and soul into any task he was entrusted with. He was a very popular figure in the department.
Every year, we would have a one-month turn of duty at Talaimannar, a sea port that is no longer operative. Having attending to our disembarkation and embarkation duties at the twin-screw ship, the Ramanujam, we had plenty of free time at our disposal. The clerical work was minimal. This is where Granville showed his exceptional worth. He was a skilled raconteur and superb mimic. He provided us mirth with his girth. He was always full of life and fun, and he had a very infectious laugh. I never ever saw him lose his temper. He was our main source of entertainment, and at no cost. This was especially welcome, because Talaimannar was a virtual desert – remote and outlandish.
Granville regaled his colleagues with stories from his past. With his perpetual smile, he would entertain us for hours, over lunch or dinner. He was always upbeat and cheerful. He had an amazing zest for life. Granville was also an accomplished musician. He could play classical music and "oldies" with equal accomplishment. In short, he was a joy to be with. His mental equipoise and warm humanity endeared him to all who associated with him.
He was courteous even to the most junior subordinate. Kindness was the keynote in his character. He was also a model of decorum. His fine temper and quiet sense of humour were invaluable assets to the position he held in the United Nations High Commissioner for Refugees (UNHCR) as Senior Protection Assistant, a job he took on after serving in Immigration.
Granville was a devoted husband, loving father and a sincere friend. Our happy memories of him will remain etched in our minds. May he rest in peace.
Nanda Nanayakkara
Beyond tears
Ponnuswami Sivakumaran
I was there first,
Then you came along
Two years later.
The sanctum sanctorum
Of our mother's womb.
Fed by the umbilical cord
With her life-giving blood,
Our divine source.
Remember those rambunctious
Boyhood days filled with mischief – innocent.
Those meal-time raids on Ma's kitchen
To taste food divine;
Remember the treks at crack of dawn
On Friday mornings to the distant temple,
Little you and I trailing behind Pa.
Schooldays were another story.
A wholly exciting story
With fond, countless memories.
Years rolled by.
Manhood followed adolescence,
Moved on to the livelihood of two men
Me here in the US of A,
you holding the fort at home.
You, my dear one,
Were the main stay for Ma when Pa was gone.
Meanwhile, your help for the needy,
Your service to humanity,
Your ever-loving care for the less fortunate
Plus your little charges from the orphanage
Moved you to veritable sainthood;
My chest swelled with pride and joy.
Back here at home in New York,
Those weekly phone calls from afar
Kept us bound together
In a constant embrace.
And now- you have left me
To join our dear Pa and Ma.
Till we meet again,
My darling brother
My sweet saint.
Your adoring Perianna (elder brother )
A friend so dear
Kalzumi Inam
The Rose that lived with thorns
Has withered, leaving behind the
Fragrance of a life so sweet
For us to remember.
How good she was;
How she used her goodness
To make others happy and gay.
I have seen her in tears,
But she never became the cause
Of any other's tears.
The depth of her suffering
We shall never know.
I could hear her faint voice
" . . . My life is spent with sorrow
And my years with sighing,
My strength fails because of my misery,
And my bones waste away."
How unfortunate we are,
We could not repay her smile,
Which she shared with us so abundant ly.
Now she has gone to eternity
(Although it is too early) –
That is her reward for believing in God.
Her life-suffering and relief at the end
Should be just enough for others
To change their ways
In remembrance of Kalzumi, a friend so dear, so loving, so kind,
so generous. We all miss her.
CBEU, SBI branch