Veteran actor, award winning script writer and author Tony Ranasinghe is an actor whose image will flutter in our hearts forever in almost all the characters he played in theatre and cinema. His role as Shylock in 'Vanisiye Welenda' (Merchant of Venice) produced by Bandula Vithanage was so remarkable in the history of Sri Lankan stage. Similarly Tony created unforgettable characters in millions of hearts playing roles like 'Baladasa' in 'Gamperaliya', 'Nissanka' in 'Delowak Athara' and his well liked role 'Bibile Eththo' in 'Hulawali in cinema. This gifted acting we enjoy once again on the mini screen when he plays in the teleplay 'Pinsara Dosthara' as Dr. Crus the character based on famous Dr. Jekyll in the world renowned Scottish author Robert Louis Stevenson's novel 'Strange Case of Dr Jekyll and Mr Hyde'.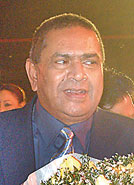 "This role depicts the struggle of every man to hide one of his dual characteristics. Each one of us tries to hide the evil side of us and to show and promote the good side," Tony joined the discussion with the TV Times. According to the story Dr. Crusz, a scientist tries to invent a drug that would help him to get rid of the evil man in him. Unfortunately what happens is the due characteristic is separated and one lives a just life while the other carries on in a killing spree.
'This is an eternal theme which is taught in every religion. Therefore this teledrama also is completely different from stereotyped teledramas which drags on for too many episodes' said Tony. The veteran actor, script writer and author has his own reservations for the medium of teledrama which has become highly commercialised rather than popular as a form of art.
"Any value in art is in its brevity of it. But this brevity cannot be expected in today's teledramas wherein one story drags for twenty episodes.
Sometimes a teledrama is not a good medium of art as a single story is dragged on for more than twenty episodes. 'Any value in art is in its brevity. That is to compress and be short and sweet', the veteran actor said.
Tony who excelled as an actor for more than five decades is optimistic that film goers would return to cinemas as it is a supreme form of art. 'When people can sit in their homes and watch teledramas and films, they would be reluctant to go to cinemas. But I am sure that this notion will fade away after sometime and people will return to theatres to enjoy the real experience of cinema' he added.
This was like when the people thought that the art of painting would be finished with the invention of the camera and photography. It did not happen. Instead painters went in search of alternative styles like impressionism and expressionism and promoted painting.
Asked whether the Sri Lankan cinema could make its mark as an independent cinema in the world, Tony was of the view that it would be hard to promote a commercial cinema while we have won many awards for the arty films. "But Commercial cinema has to be there so that the producers would be able to invest on artistic cinema as well," he added.
He began his career in the theatre with a role in Ran Thodu in 1963 which won him the Governor General's Award for the Best Stage Actor, Ranasinghe Hettiarachchi Anthony Silva made his debut in cinema with Lester James Peries' Gamperaliya (1964) and followed it with Ran Salu.
In his long career Tony won many awards including the Best Supporting Actor Sarasaviya Award in 1966 for his role in 'Parasathu Mal', Best Actor Awards for 'Hanthane Kathawa' (1969), 'Duhulu Malak' (1976) and Ahasin Polawata (1979). In 1993 'Saptha Kanya' won him the Best Actor Awards from Sarasaviya, Swarna Sanka, Presidential and OCIC. His potential to screenplay writing was proved with the Sarasaviya Awards he won for 'Koti Waligaya', 'Keli Mandala', 'Awaragira' and 'Pavuru Walalu'.