The importance of a thriving art culture in any functioning society is a topic that will get you several different responses. You will find some who will speak of it as a necessity in a functioning society, and others who don't really see it as something so important. Sunara Jayamanne (23), an artist who currently resides in Mount Lavinia is one of those people who regards free and abundant artistic expression to be of the utmost importance.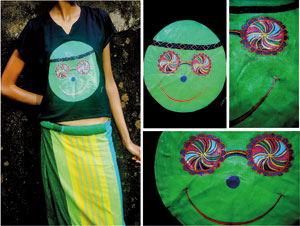 While she does draw on canvas and has an interest in various different mediums, she displays a special interest in creating art on clothes saying, "I think that art should not always be on a canvas and just hanging on a wall and I think that artists should always experiment with different mediums and it's also nice to have people wearing a piece of art rather than it being in one place. Everybody dresses differently depending on their personality and although I don't make different designs of clothes, there are no copies of my art, so every art work on every piece of clothing is to capture someone else and their unique aura," Sunara explained.
She went on to talk about how every T-shirt that she draws on has a different concept and idea. "Most often when I make a T-shirt, I think of individuals and how it would help them see a different perspective to life and creation on the whole. It's funny how even if there is no one specific person in mind when making T shirts how the person who ends up buying it is just so perfect."
When speaking of what inspires her, Sunara says, it is the fact that she can communicate her ideas of the world and her feelings better through art than speaking in words. "Every day inspires me. Life in general, the sun rising, the beauty of this world and how I have come to be," she explained. "My inspiration comes to me when I'm in conversation with someone. How my mind works is, when someone is talking to me about something, I tend to visualize what they're saying and I take those ideas and I sketch them out in a notebook and then work on them from there," she said adding that sometimes different things she has drawn on different days come together in one piece of art.
"Every human being has the ability to create. We have been given the gift of actually being conscious and understanding what's around us. We have the gift of making music, dancing, making art, and I feel the best way that I can contribute is through art and that inspires me to sit down and paint and communicate my perception of what is happening to everybody else.
"When I work it's always with a good intention because I believe that when we are creating something that's actually a lot of power and whatever you're creating holds a lot of power so whatever your intention is it will always resonate through your creation and will always make a difference in the universe," she explained, adding that even though some of her artwork portrays both the good and the bad in the world, the intention there is not a bad one, but to help someone understand what it really is and what they can make out of it.
Sunara also talked of artistic expression and its importance in a fully functioning society. "I guess for different people it works differently, but at the end of the day being creative for anyone is a non harmful way of expressing whatever emotion you're feeling. In today's society I can see that art has evolved into something completely different. It basically reflects what we are going through as a society so I think it's extremely important for us to be able to express ourselves creatively," she explained, adding that "being creative helps us to connect to a higher consciousness and allows us tap into our true potential as beings. This helps us to communicate and understand each other in a deeper way and most importantly in a nonviolent manner. It also helps us understand that we as beings are different and that the difference is what makes us all special in this beautiful world." Sunara's contact details can be found on her Facebook page 'Sunara's art' or send her a mail -sunara_j@hotmail.com