In spite of being the only beast in the wilds that shares a cultural and religious bond with man in Sri Lanka, with even the casket of the venerated tooth relic of Lord Buddha being carried by one of its kind in the annual Esala Perahera, the human-elephant conflict rages on.
According to the Department of Wildlife Conservation statistics, around 200 elephants and an average of 60 people die annually as a result of the conflict. "Elephants enter the villages at night, sometimes in groups or alone and destroy crops," W. Shriyani Mallika Social Service Division Management Assistant of Galenbindunuwewa AGA Division said.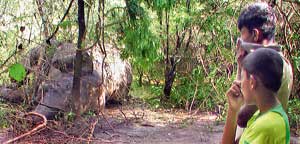 Fallen gentle giant: Children in Ranawa, Dambulla look on at rotting carcas of an elephant who had died following a gunshot injury. Pix by Kanchana Kumara Ariyadasa
Mahinda Jayasinghe, AGA of Wanathavilluwa Division in the Puttalam District said that elephants have started braving the electrified fences to enter the villages.
"Damage caused to crops and houses are becoming unbearable and as a result, people have resolved to shooting the elephants," he said. He said, there was no loss to human life in the areas in recent incidents.
According to Dr. Ranjit Bandara, Sri Lanka Foundation Institute chairman and former lecturer of Economics at the University of Colombo, the estimated crop damage exceeded Rs. 1,100 million per year.
He also said that many of the elephants who roam the villages are predominantly young bulls who come in search of good food as they need to compete with other male elephants to catch the she elephants. "If strong male elephants continue to get killed, this would affect the breeding of elephants too".
He explained that the prohibition of chena cultivation and fragmented forest lands have worsened the problem. The period between two harvests of a chena was the period that elephants feasted on left-over crops. Among the many steps formulated to curb the conflict is the National Elephant Conservation Policy which is yet to be fully implemented.
While providing elephants with safe areas and taming and domesticating troublesome elephants, the affected people too should benefit from the conservation plans. "The affected should be protected by insurance and they should be duly compensated," Dr. Bandara said, adding that elephant conservation should not be a burden to the farmers.
Meanwhile Wildlife Conservation Department Director General Chandrawansa Pathiraja said that an attitude change in the people was needed to resolve the conflict and to that end an awareness programme would be launched from next month for people in vulnerable areas. He said elephant corridors would be set up linking the forest fragments for elephants to move freely while the Department would pay attention to enriching elephant habitats as most who inhabit the dry zone, come out of the forests in search of food and water.
"We are setting up 200 tanks and most of them would be completed by December," he said.
The elephants could be kept away from human habitats if they are provided with basic needs like water, food, resting places and free movement. The annual birth rate of elephants is 450-500 per year according to the Department of Wildlife Conservation. With an annual death rate of 200, many of the animals would find life more difficult in the thinning forest ranges, he said.
Commenting on another method to curb the problem of elephants roaming into human habitats Dr. Pathiraja said the department had relocated 50 people who had settled along an elephant corridor in Tabbowa and the same proposal has been proposed for implementation in Moragahakanda in the Polonnaruwa District as well.
"When settlements come up along traditional elephant paths there is very little that can be done other than to remove them. Most people travel after work on foot or on cycles at dusk and they could be attacked by the roaming elephants. There are areas where parents are even reluctant to send their children to school and we have proposed a special bus service to those areas," the Director General said.
It is interesting to note that a survey conducted by Jayantha Jayewardene, the Managing Trustee of Biodiversity and Elephant Conservation Trust (BECT) revealed out, 43% of those interviewed in affected areas said they had no problem with the elephants provided that crop damage was minimal. 42% said they did not want any elephants in their areas although no one wanted them harmed.
"A balance between elephant conservation and human survival was essential," Mr. Jayewardene said, adding that 70% of the elephants lived outside the protective areas. He said elephant conservation should be taken into account when new development programmes were drawn up as chasing them away from their habitats was not a long term solution. "When elephants are chased away from lands they return more aggressive than before," he warned.