The mystery behind Chronic Kidney Disease of Unknown Aetiology, also known as CKDu, continues to puzzle local and international medical research teams, including WHO experts, while the disease itself is spreading.
CKDu is largely concentrated in the North-Central Province, but hospitals remain understaffed to deal with the problem. Hospitals with kidney treatment units are experiencing a shortage of specialised doctors and nursing staff.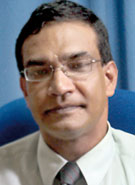 "As more patients come in, the need for more dialysis machines and specialised medical staff increases.
–
Dr. Alan Ludowyke, National Institute for Nephrology, Dialysis and Transplantation
Anuradhapura is the worst affected. Over the past 15 years, 145 deaths and 18,281 cases of CKDu have been reported from the district. Polonnaruwa reports 4,607 cases. Cases have also been reported from Ampara, Trincomalee, Kurunegala, Vavuniya and parts of the Eastern, Uva and Northern provinces.
The Anuradhapura Teaching Hospital has the facilities to treat kidney patients, but lacks specialised doctors and trained nurses, accord to the hospital director, Dr. M. T. B. Wijekoon.
"Every year, about 15,000 persons register with the nephrology unit, and the numbers are growing," Dr. Wijekoon told the Sunday Times. "Most of the patients come from the rural areas, and they come for treatment only when the disease is in the chronic stage, when transplants are required. But the hospital does not have the medical staff to do kidney transplants. There is a shortage of surgeons and nurses."
Dr. Wijekoon said the hospital will be equipped with an operating theatre for kidney transplants in a couple of months, but finding trained nurses to assist in transplant surgery remains a problem.
The seven-storey National Institute for Nephrology, Dialysis and Transplantation, in Maligawatte, Colombo 10, is the country's only specialised facility for treating kidney patients, but this medical centre is also hit by a shortage of medical staff, especially trained nurses.
According to Dr. Alan Ludowyke, the institute's medical officer in charge, some 800 persons register at the clinic each month, but there are only three consultant nephrologists, and nine trained nurses and one matron to assist in dialysis treatment.
"The majority of CKDu patients are males in the 45 to 69 years age category," Dr. Ludowyke said.
"A dialysis session at a private hospital or clinic costs between Rs. 6,500 to Rs. 11,000. We don't charge for dialysis at the National Institute. The number of patients being referred to us by the National Hospital in Colombo is steadily on the increase."
Treatment for patients in the chronic stage is either a transplant or dialysis, Dr. Ludowyke said. Dialysis cleanses the blood of impurities or toxins, work done by healthy kidneys; a transplant involves putting a healthy kidney from a donor in place to take over the function of the dysfunctional kidneys. "The institute has 10 dialysis machines, which are in maximum use," Dr. Ludowyke said. "As more patients come in, the need for more dialysis machines and specialised medical staff increases. Kidney transplants are done only at the National Hospital in Colombo and the Kandy Teaching Hospital. There is a shortage of consultant Nephrologists."
Dr. Ludowyke said the institute accepts registration for "cadaveric transplants", which involves the use of kidneys from "brain-dead, heart-beating" donors. Dr. Wasantha Dissanayake is a consultant physician who has been researching CKDu, along with local and WHO medical teams. He said possible causes ranged from water contaminated by environmental toxins, such as cadmium, fluoride, aluminium and pesticides, to alchohol consumption, the use of aluminium vessels in cooking, and dehydration. The exact cause of CKDu has yet to be pinpointed.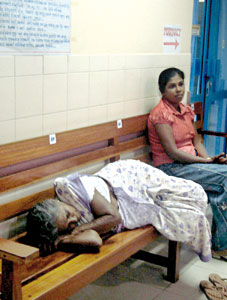 A patient awaits her turn for dialysis treatment. A medical staff shortage adds to her woes.
"Recent cases of CKDu have been observed among farmers suffering from dehydration due to long hours of exposure to strong sunshine and low water consumption. Other CKDu suspects are pipe-borne water and tank water used for home gardening, and diets that include water-based plants like nelum [lotus] and kohila [lasia spinosa], and tank fish cooked with the skin intact."
Dr. Dissanayake said tank water or water used for irrigation purposes should not be used as drinking water. These water supplies remain in place for months and are vulnerable to contamination, he explained.
"This particular renal disease is common in Anuradhapura district in areas such as Padaviya, Nochchiyagama, Medirigiriya, Rajanganaya and Nuwarawewa, where there has been intensive use of pesticides and fertiliser over the past 15 years."
He said the use of fresh spring water for drinking over a period of time may reveal whether contaminated water is a cause of CKDu. Once the WHO and other research groups have completed their research and identified the cause or causes of CKDu, the Ministry of Health will start to implement preventive measures.
"At present, we will focus on dialysis and transplants in Colombo and Kandy," Minister of Health Maitripala Sirisena told the Sunday Times. "Nurses can be trained. The issue is to find specialists. We have only a handful of consultant Nephrologists in the country."