Over fifty Japanese Squadrons of bombers and fighter aircraft came in formation, from two directions at about 7 a.m. on April 4, 1942. Devout Christians dressed in their best on Easter Sunday, attending service heard the drone of aircraft and the immediate loud wailing of Police sirens fixed at junctions. The thunder like sounds from anti aircraft guns stationed at strategic points, signalled that Emperor Hirohito's mighty military forces that had overrun and captured Hong Kong, Cambodia, Vietnam, Burma (now Myanmar), Siam (now Thailand), Malaya, Singapore and a good part of the Dutch East Indies (now Indonesia), were attacking the island of Ceylon.
The situation at home
With the fall of Singapore soon after the devastating surprise attack at dawn on Pearl Harbour a few weeks before, where the world witnessed the wiping out of the US Eastern Command fleet consisting of three aircraft carriers, six destroyers and four troop carriers all within a breathtaking space of time, the then Governor Sir Andrew Caldecott (1937-1944) had placed the British Colony of Ceylon, on a "war footing". He organized Civil Defence with the able leadership of Oliver Goonatilake (later knighted) to be in charge of all civil operations.
The ground situation in deserted Colombo, was like the calm before the storm. Petrol and food rationing on a coupon system for each household, through the then all- important cooperative stores outlets, (public markets had closed down) saw queues of people waiting to obtain their requirement of Australian wheat flour, pulses, unrefined brown sugar, two bottles of kerosene oil for the kitchen cooker and a few sticks of firewood. Many wore tennis shoes as leather makes were seldom seen. Imported fabrics and sarees were not available. The 'grow more food' campaign was a success with home gardening.
The mass evacuation of people in special trains to reside in far off places outside the perimeter of the danger zone, is memorable. The digging of deep trenches, and the construction of concrete underground Air Raid Shelters at key points in the metropolis such as at bus terminals and railway stations were visible.
A mobile Air Raid Precaution Service (ARP) manned by over 500 able bodied men and Rover Scouts headed by Charles Dymoke – Green, Scout Commissioner Colombo, all having a knowledge of first aid and Morse Code, all able to travel fast on their push cycles carrying messages should there be a breakdown in the telecommunication system (there were no mobilephones at that time) had been organised.
Hospitals had auxiliary trained men to help in emergencies. Vehicles were prohibited to move about after 6 p.m. unless they had "special duty" passes. The head lamps of vehicles had to be masked. All glass windows of buildings had to be painted black or dark blue to keep away light at night. Sir Geoffrey Layton was appointed Commander -in - Chief of the island with the War Council to assist him. In the War Council were Sir Baron Jayatilake, leader of the State Council, D.S. Senanayake, S.W.R.D. Bandaranaike, Lieut. Col. John Kotelawala, A. G. Ranasingha, CCS (Head of the Treasury), A.N. Strong, Chairman Colombo Port Commission, and GA Colombo, and a few more Ministers of State. Press censorship was in force. Armed cars and small tanks were stationed at key points. The city, a citadel, looked ready for battle.
As a British Colony, the public rallied to support the war effort by contributing to the 'send a fighter plane fund', by organizing a carnival called the "Harbour Light Carnival" at the present site of the Cinnamon Lake Side Hotel. Knowing the strategic position of Ceylon in the Indian Ocean and importance of Trincomalee as a large natural harbour, the Japanese in their military trust for territorial aggrandizement were keen to capture the island.
Japanese Armada sighted
At 5 a.m. on Easter Sunday, April 4, 1942 Squadron Leader Leonard Birchall (later promoted to be Air Commodore and decorated with the Distinguished Flying Cross (DFC), Order of Canada, the British OBE and the U.S. Legion of Merit), piloted a twin engine Catalina flying boat used for reconnaissance work off the coast of Ceylon. He took off from the Koggala Air base with a crew of seven. Far out at sea, with hazy light surrounding him, about 40 miles south east of Dondra Head, he spotted a vast Japanese naval armada consisting of warships including several aircraft carriers and destroyers which had been under the command of Admiral Matsumi, a veteran sea dog.
The experienced pilot that he was, Birchall lost no time to signal by code his Koggala Air Base and forewarn them of the danger he had just witnessed. The message was promptly relayed to the Colombo Defence Command. Before long, several dozens of Japanese aircraft flying in formation arrived over Colombo, from two directions, to be greeted by the British make "Spitfire" fighter Aircraft Squadrons that took off from the hastily built air strip which was previously the Colombo Race Course, at Reid Avenue.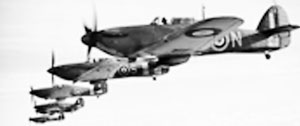 RAF Hawker Hurricanes were scrambled from the temporary airstrip at the Colombo Race Course. Pic courtesy ask.com
Aerial "dog fights" ensued for about thirty minutes and the thunderous noise emanating from falling bombs, the incessant firing of anti aircraft guns was deafening. When the air battle ended, more than 25 Japanese fighter aircraft had been shot down. Their burning wrecks were seen at Galle Face Green, at the cricket grounds of S. Thomas' College, Mount Lavinia, in a paddy field near the Bellanvila Temple, at Piliyandala, Kottawa, Homagama, Pitakotte and Maradana. Several aircraft were shot down into the sea. I remember as a boy collecting as a souvenir, an aero engine aluminium part of a Japanese aircraft that was shot down at S. Thomas' College.
The Japanese who created havoc were brave. They fought for their country and in the name of their son god who was their Emperor. One Japanese pilot, in keeping with the Japanese code of chivalry (bushido) committed "Harakiri" (Suicide) by diving his fighter craft through the large funnel of a British destroyer berthed in the Colombo Port. The ship's fuel tank burst and the burning ship sank within hours. That pilot managed to achieve his feat despite their being over fifty large Barrage Balloons anchored for protection with steel rope to ships in the harbour.
The Japs (perhaps by error despite the roof of the building having the red cross painted on it) bombed the Mental Asylum Hospital at Mulleriyawa, creating pandemonium among the inmates. Church goers had to take shelter under the church pews whilst the deafening noise from gunfire was heard in distant Padukka and Horana.
A sad story related was when four mechanics of the then Port Commission Railway, who had taken shelter in the well of loco shed repair station, died as a result of a locomotive jumping the rails due to a bomb blast. Fortunately, when the air raid took place most of Colombo's resident population had been evacuated to live in their villages or with their friends.
The Saviour of Ceylon
The war hero of the military drama on Easter Sunday 1942 was the Canadian born, Sqd. Leader Leonard Birchall. After he had sent his coded message to the Koggala Air Base, two Japanese fighter aircraft had vigorously pursued his Catalina Sea Plane which eventually was shot down at sea. One of his crew died, whilst the rest swam for several hours and were finally rescued by the Japanese destroyer Isokaza. Thereafter, they spent nearly four years as prisoners of war, near Mount Fuji where many prisoners of war died of malnutrition. They were starved and regularly beaten, and tortured. When the war ended, Flt. Lt. Birchall returned to Japan to testify in the War Crimes Tribunal and witness the execution of his captor. This gallant Canadian is today gratefully remembered as a war hero by the people of Sri Lanka, Canada and Britain.
Here during the 1994 General Election in Sri Lanka, as a Canadian Observer, Birchall, who had a strong humanitarian outlook was struck by the poverty he saw in our hospitals. Subsequently, at his own expense he arranged for eight tons of medical supplies to be sent to Sri Lanka. Before his demise (he died of cancer) at the age of 89, on September 11, 2004, he was warmly felicitated by the Government of Sri Lanka at the Oberoi Hotel Colombo.
At his funeral in Canada, the Sri Lanka High Commissioner was present to address the large distinguished gathering with a few words of gratitude. She said, that Sri Lankans will always remember this gallant war hero, who is today known as the "Saviour of Ceylon" in 1942.