He has to wash her, feed her and even carry her to school. But he does it willingly, while sweeping and dusting their home and also cooking their family meals. That's why I can't do a job, laments 45-year-old M.S.M. Najeeb who had woken up early that morning, made some egg sandwiches so that his two daughters won't go hungry and brought them to the Sunday Times office all the way from Keerapana in Gampola.
If someone donates a trishaw to me, I would be able to do everything for my little Zaifa and earn some money to sustain my family while the children are at school, he pleads. How much sorrow and suffering can one person bear or accept with stoic resignation, is what comes to mind, as Najeeb's life story unfolds.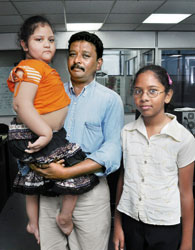 Najeeb with his daughter Zaifa (whom he's carrying) and Uzlifa. Pic by Gemunu Wellage
He was from Bandarawela and his wife, Shakila, from Gampola when they met, married and started life together. They were content, for he was working at the Colombo Swimming Club while Shakila was living with her parents in her hometown. He not only sent money but also went home regularly when he could get leave.
The couple had their first daughter, Uzlifa, nine years ago and they were delighted. Life was going the right way and it was with much expectation that they awaited the second child, two years later.
The second too was a bouncy baby-girl they named Zaifa. She, however, had a few issues, for she was born with deformities in both her hands and legs.
Her feet and hands were turned inwards, says Najeeb producing a file full of doctors' notes. Zaifa had multiple congenital deformities which needed correction, the Sunday Times learns. 2003 was a turning point in their lives. The first operation on nine-month-old Zaifa was due on July 7. Najeeb and Shakila had accepted their lot with equanimity and resolved to get their second child on her feet somehow.
But fate had other plans for this young family. The Sunday before Zaifa's operation, Najeeb got a frantic call to the Swimming Club from Gampola.
"Come home," a relative said urgently, Shakila had, had a fall. Taken to Gampola and transferred to the Kandy Teaching Hospital, by the time he reached her side she was at the Intensive Care Unit. She was unconscious and Najeeb would not be able to see her as her usual smiling self over again.
Naharayak pupurala, moleta le behala, says Najeeb, explaining that there was haemorrhaging in Shakila's brain because a blood vessel had burst. By July 7, she was dead at 34 and Najeeb's world came tumbling down.
"I was deeply affected," sighs Najeeb, not knowing what to do and whom to turn to. He had two small girls, one a baby and the other a toddler. "Pissek wage hitiye," he says adding that he was like a mad man. Relatives chipped in to help the family, but how long could he depend on them, for they had their own lives to lead.
His in-laws moved in and his mother-in-law took the children under her care. Najeeb left his job at the Swimming Club and worked in the tourist sector, being in charge of a guest house. "I had to be close to home because Zaifa had to undergo many operations and be in plaster to correct her deformities while Uzlifa had to go to school at Zahira College in Gampola," he says. Whatever money he had saved kept dwindling.
Zaifa faced six operations, four at the Peradeniya Teaching Hospital and two at Sri Jayewardenepura Hospital, with physiotherapy at the Ragama Rehabilitation Hospital. After the last operation she had to be in bed for 1 ½ months, says Najeeb. Could more misfortune befall Najeeb and his daughters? Most would assume not. But three years ago, came another blow – the death of his mother-in-law.
Bereft again, Najeeb has been compelled to give up his latest job because he has to be with his children. Now while he collects the small benefits from Samurdhi, he attempts to earn some money by brokering the sale of houses.
Another blow has come in the form of notice to leave the tiny home they have been renting with much difficulty for Rs. 2,500. We have looked at another house, but the rent is Rs. 3,500, says Najeeb with Rs. 42,000 needed as an advance.
Many are the issues that Najeeb also faces as a single parent. Although Zaifa needs more operations he cannot be with her in hospital as she would be in a female ward. He will have to keep a woman to look after her and he simply doesn't have that kind of money.
Zaifa who is now seven years old is doing fine in Grade 3 at school. She is very bright, says Najeeb, but he has to carry her back and forth from school in addition to washing her and dressing her in her uniform everyday. Worries about the future keep Najeeb awake at night. "If I fall ill who will look after my daughters," he asks desperately.
Wish to help?
Generous donors who wish to help widower and father-of-two M.S.M. Najeeb (Phone: 0779105402) may please send in their mite to Account No. 8102003324 of the Commercial Bank, Gampola.