It is no magic for a person to be successful and reach the highest pinnacle in a person's career, but it's often an extremely hard and difficult task. But reaching the top as Sri Lanka's Entrepreneur of the Year after 14 attempts must take some doing!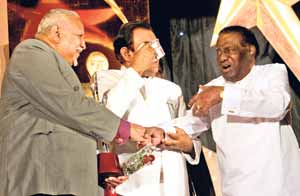 Prime Minister D.M. Jayaratne appears to wipe away a tear during an emotional moment after he gave away awards to – what he called two of his friends - veteran businessmen H.K. Dharmadasa and Harry Jayawardena in the Hall of Fame category at the FCCISL Entrepreneur of the Year awards ceremony in Colombo this week. Pix by J. Weerasekera
This difficult, hard work and rise to the top is the story of Richard Jayatissa, Managing Director, Richard Trading Co (Pvt) Ltd who was adjudged the Sri Lankan National Business Hero (Entrepreneur of the Year) 2010 organized by the Federation of Chambers of Commerce and Industry of Sri Lanka (FCCISL) and held in Colombo this week.
Once he won the Platinum Award, he unfolded his 'sad and hard life' to the audience, recalling how he reached the highest in his business and revealed how he got through the postgraduate degree MBA from the University of Western Sydney, Australia. This man in a way could be compared to famous and greats in history like US actor Sidney Poitier and legendary US leader Abraham Lincoln who did not have any formal education but reached great heights in their respective careers through hard work and perseverance.
He said that he had to drop out of school at the age of 14 to help the stationary business of his ailing father. Though not having any GCE (OL) qualification, he approached the university authorities and pleaded to do the MBA. The university authorities brushed aside his request but the determined man continued to plead and beg that he was very much interested in learning management and to allow him to at least study.
The university authorities then said that if he studied he might as well sit for the finals and allowed him to study and sit the examination. He completed the examination and passed.
His story was so touching that it moved the audience gathered for the awards, particularly when he spoke of his father getting a heart attack, him pulling out of school to shoulder the responsibility of his father's business. Visibly moved while speaking with tears in his eyes, he often struggled for words.
For him failures are no barrier and he had tried and failed 14 times to achieve the accolade of Entrepreneur of the Year and at the 15th time attempt, he succeeded.
Richard Jayatissa
Prime Minister D M Jayaratne, as chief guest, amply complemented the private sector and declared that nobody else could salvage Sri Lanka but only the private sector and he urged the private sector to take the country to greater heights. He said that all the countries which progressed well have done so with the help of the private sector.
Rienzie T Wijetilleke, Chairman, Hatton National Bank in his speech said that the banks are prepared to assist the SME sector, but it should be noted that they are dealing with other people's money and thus they have to be careful in lending that money.
He said that therefore they have to identify that there is potential for growth in every sector they deal with. He said that there is much opportunity for growth in sectors like health, education and tourism and noted, "there is enormous room for growth".
Tissa Jayaweera, President, FCCISL welcoming the guests said that they consider these leading entrepreneurs as National Business Heroes who have survived the economic recession and conflicts within the country and outside.
At this function, the FCCISL also honoured, under the 'Hall of Fame' category, two individuals of noteworthy achievement in their fields of expertise in business; felicitating and recognizing H K Dharmadasa and Harry Jayawardena.
Mr Dharmadasa made history when he began business in 1942 during the raging World War 11 starting Navaloka Timber Stores and today has built it into a conglomerate. Mr Jayawardena, Chairman, Ceylon Petroleum Corporation is also the CEO, Stassen Group of Companies that has grown into a conglomerate. Stassens are the pioneer producer of Chinese style green tea and organic tea and one of the world's first internationally certified Organic Tea Gardens.