Top marketer Prof. Uditha Liyanage and Chief Operating Officer of Commercial Bank, Ravi Dias have been appointed to the Board of Commercial Bank PLC, the bank announced last week.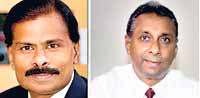 Prof. Uditha Liyanage and Ravi Dias
The new appointments, effective from December 14 were made by the Board of Commercial Bank. Prof. Liyanage is the Director of Postgraduate Institute of Management (PIM).
He counts over 15 years of professional experience as a senior manager, and 18 years of teaching and research experience in marketing and management. He is also an Adjunct Professor of Management of the University of Canberra, Australia.
Mr Dias has substantial professional experience in banking, out of which 15 years have been in corporate management. He holds a Bachelor of Laws (LL.B), and is a Fellow of the Chartered Institute of Bankers (London) in addition to being a Hubert H. Humphrey Fellow.
With the latest appointments, the Board of Directors of Commercial Bank comprises Mahendra Amarasuriya (Chairman), B.R.L. Fernando (Deputy Chairman), Amitha Gooneratne (Managing Director), Ravi Dias, H.S. Wanasinghe, Dinesh Weerakkody, P.M. Martelli , Ranjith Fernando and Uditha Liyanage.