Remember Moses Thangarasa, the trishaw driver from Meewathura, Peradeniya who lost both his limbs following a tragic train accident?
On March 27, this year at about 11.40 p.m. Moses, after a hard day's work, decided to spend a few quiet moments at the railway track near his home as he often did after work. Within a matter of minutes, his life changed. Seeing a train approaching, he tried to move away but slipped and fell back on the track, he recalls. He was rushed to Peradeniya hospital where he ended up spending one and a half months… his legs being amputated above the knee.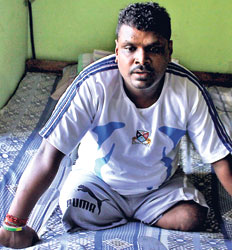 Moses waiting to resume his livelihood
The trauma of being confined to a bed, losing his livelihood, all saw Moses experiencing some of the darkest days of his life. But friends, relatives and neighbours kept him going in those difficult times, he adds.
He couldn't stay with his aged mother living in Meewathura as she was unable to take care of him. Besides, there was no water or electricity and so Moses was moved to his aunt's place in Irugalbodiya. Coming on to the road from his aunt's house on top of a steep hill, especially on clinic days was no easy task. Moses's cousin Susantha would climb up and down the hill carrying Moses on his back with the help of others.
However, eight months after there seems to be light at the end of the tunnel for Moses with the possibility of using artificial limbs. Moses' wounds have healed. The doctors who examined him when he was admitted to hospital to undergo surgery have recommended that an operation be performed only if the need arises once he starts using prostheses. "I feel much better now. I no longer feel the back pain when I travel in the trishaw or when I sit on the bed," says a happy Moses.
The Sunday Times met Moses at the Centre for Handicapped in Digana Road, Kundasale where he had come to seek assistance to obtain prostheses. Hope is written on his face when the Manager at the Centre T. Weeraratne asks him to come in December to take measurements for artificial limbs.
"At the fit-on stage, he will have to stay at the centre for about two weeks where he will be trained to use to the limbs by the physiotherapist. During this period accommodation will be given free of charge but without meals.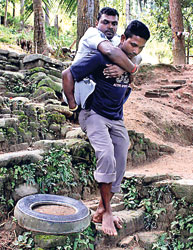 Susantha carries Moses up and down the hill
We are trying to find a donor so that we can give him the limbs free of charge and the beneficiary can make a contribution if possible." The centre which was established in 1992, is a private organization managed by a board of directors.
Moses leaves the centre with a sigh of relief. He anticipates the day where he would not have to be a burden on his friends and family, he says. He has fresh hopes for a new beginning. "I have been driving a trishaw for about seven years- if I get cured I can start my job again," he says.
Moses has a big thank you for all his friends, relatives, neighbours, doctors and for all the well-wishers who supported him in numerous ways to recover from his accident thus far. With fresh hopes for a new start Moses says he would like to get back to is usual trishaw business once he starts using his artificial limbs.
Those who wish to lend Moses a helping hand can contact him on 0777182259 or send in donations to the People's Bank, Peradeniya branch, account no. : 057 200140009766.