Fortunately, Guruji Shri Yogacharya Arun Kumarji is a lot less intimidating in person than his list of honorific titles would lead you to believe. When we arrive at Thotupola at the invitation of the eco-adventure organization Inward Bound, it is to discover we're the only ones out of dress code – everyone else in the room is in white.
Enclosed within glass walls, Bolgoda Lake at their backs, they are listening intently to Guru Kumarji at the head of the room. Beaming benignly at everyone, he is in the middle of a discussion about the importance of breathing slowly and deeply. It is the leash which keeps the brain (which he compares to an excitable monkey) in check, he explains, adding "if you master your breath, you master your mind."
In the past, he has used this same philosophy to train people from different backgrounds.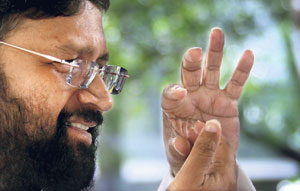 Guruji Kumarji (left): "if you master your breath, you master your mind."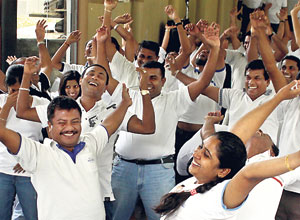 A group of people practising yoga.
He has enjoyed some success particularly with professional athletes. While working at the MRF PACE Foundation in the early 1990s, he trained several cricketers including Rahul Dravid, Venkatesh Prasad and even Sri Lanka's Chaminda Vaas, Ravindra Pushpakumara and Eric Upshantha. "We taught them concentration, focus, relaxation, mental strength and flexibility," he says, explaining that the exercises for warming up and cooling down kept the athletes limber, but that the real success lay in teaching them to control stress. As a result their stamina and performance improved dramatically.
It is this emphasis on the role of the mind in one's general health and success that Guru Kumarji is best known for. As a consultant for hospitals like Apollo, Guru Kumarji has strived to integrate Western medicine with Eastern wisdom. "Everyone has five existences," he says, listing energy, emotion, intellect, spirituality and the physical dimension. "In the normal medical treatment you work on only a small percentage of the body, he says, "in yoga we work on the totality."
He is also attempting to popularise the concept of "etheric hygiene" –that involves cleansing the recovery room of negative energies. As he explains the importance of maintaining calm and encouraging patient to be peaceful and happy, it sounds like common sense. "It's important to have a better ambience," says Guruji Kumarji.
How do doctors respond to his suggestions? "Initially they're resistant because they know very little about this," he says advocating a broader base of study. However, the introduction of wellness centres in hospitals that teach yoga and meditation is proving that there is room for integration. "Governments are beginning to understand the need to treat human beings as complex beings, not just flesh, bone and muscle," says Guruji explaining that in India it should eventually become a government policy to encourage the use of alternative medicine and techniques in hospitals.
Guruji Kumarji himself tries to keep up to date on scientific research. His talk illustrates why he is often referred to as a 'New Age Guru.' Littered with references to physics, psychology and holistic treatments, it is packed with motivational punch lines. His audience seems to love it, with everyone eager to try out the exercises. However, for the ordinary sceptic, it really requires one to suspend disbelief. In the ten minutes devoted to energy healing, for instance, Guruji discusses how channelling "cosmic energy" into the islet cells in the pancreas and exhaling the negative energy out can lead to dramatic improvements in health. One need only do this every day for a short while to experience the benefits.
Unfortunately, doubt dilutes the efficacy of such treatments, he says. Guruji himself sees his teachings as having a strong scientific basis. Coming from a background of electronic engineering has made him a fan of the scientific method. "I don't know how to teach something that doesn't have a proper base," he says, cautioning that "unless you have done your research, you shouldn't take it to the public."
He advocates proving the goodness of new techniques in smaller groups and then gradually including a larger base. Western medicines can be disguised and given even to reluctant patients, but systems like yoga require a patient's full cooperation, he says. "However, they can complement each other," he explains. Adding that in his work with hospitals, "what we're seeing is the patient who took six months to get better, when we combine the treatment, he is recovering in three months."
As the founder of the Chennai-based Infinite Dimensions, Guruji has seen his organisation expand until it comprises five different wings. Corporate training is much in fashion, and APEX (Academy for Performance Excellence) meets that demand. Alternative Systems of Healing in Action (ASHA) boasts a set of health initiatives, many of which are focused on providing free camps and therapy to those in need. The centre also offers training and classes, while another branch is focused on exploring the roles of dance, music, art and craft in therapeutic techniques. The last is another company called Organic Plus that sells organic foods and supports local farmers who produce it. Infinite Dimensions is also a charitable trust that supports many orphanages, old age homes and Goshalas.
It is the session in corporate training that has brought him to Sri Lanka. His partners this time are the organisation Inward Bound which is known for using physical challenges and eco-adventure experiences to help train corporate teams.
Guruji might also stay to train teachers in yoga. He has been awarded the Bheemsen Pathi National Award in 2009 and a key part of his mission, he says, is to teach the correct form of yoga.
"Unfortunately, the corrupted version of yoga is spreading," he says explaining that with its partial emphasis on breathing or exercises alone is flawed, when a holistic, comprehensive change to one's lifestyle is required. "Yoga is for complete wellbeing, but we also call it Ananda Yoga, that is yoga for bliss," says Guruji, "that is what you get when it is practised correctly."