Five years ago in a market in China, a strange conversation is taking place. The moment Sri Lanka is mentioned, an elderly Chinese merchant, eyes lighting up, says immediately, "Bandaranaike".
The inextricable link: Sri Lanka and Bandaranaike.
When the merchant is told that this is the daughter, he erupts in giggles. How could someone with short-cropped hair, wearing trousers be her daughter?
The lasting image of the Bandaranaike that the Chinese had was a person of eminence, elegantly-clad in a Kandyan saree, with matching accessories, and a neatly tied konde, with not a hair out of place.
Yes, the image in his mind's eye like in those of many others is that of Sirimavo Bandaranaike who brought fame to this dot on the globe, when she donned the mantle of the first woman Prime Minister in the country as well as the world.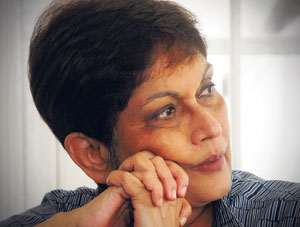 Sunethra in pensive thought and (above) Sirimavo becomes a Senator in August 1960 after being appointed Premier on July 21, the same year (Below).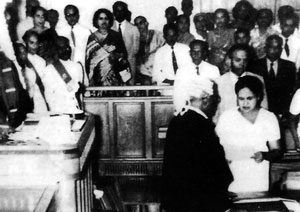 The memories don't just stop there for daughter Sunethra, when we met her on Tuesday as she was putting the final touches to 'SIRIMAVO Honouring the world's first woman Prime Minister' to be launched on December 7 at the Sirimavo Bandaranaike Memorial Exhibition Centre of the BMICH.
Having spotted a capital letter where it shouldn't be, she says, "See we looked at the book because we wanted to show you the cover, and luckily found this. I believe Amma is somewhere. It always works out right for her."
As Sunethra goes down the corridors of time to her teenage years when her mother skyrocketed to fame, for a moment a shadow of sorrow passes over her face when the book falls open at a beautiful photograph.
Here, Amma is in a pensive mood, recalls Sunethra dwelling on that moment in time when Sirimavo had to make a life-changing decision not only for herself but also for her family and for her country.
Sirimavo's silver-tongued husband S.W.R.D. Bandaranaike was dead, splattered by the bullets of an assassin who came into the front verandah of their home, 'Tintagel', down Rosmead Place on the morning of September 25. Rushed to the Merchant's Ward of the General Hospital after the shooting, a team headed by Surgeon P.R. Anthonis had battled to save the Prime Minister's life in a lengthy operation. But to no avail.
SWRD passed away the next morning leaving the country in shock and his party, the Sri Lanka Freedom Party (SLFP) reeling. For the Bandaranaike family which had to cope with the tragedy, there was not much time to focus on the politics of that time. Education Minister W. Dahanayake had taken over as Prime Minister but rumblings and no-confidence motions made him unexpectedly dissolve Parliament and fix the General Election for March 1960.
By this time internal bickering had resulted in Dahanayake being expelled from the SLFP and the party leadership being taken over by C.P. de Silva. The election, however, was won by the United National Party (UNP), although no party gained an overall majority, with Dudley Senanayake being appointed Prime Minister.
His government too was not to last long and Parliament was dissolved and a General Election once again set for July 20, 1960. It was then that SLFP stalwarts, all former Ministers of SWRD, came in delegation and began pressing my mother to take over the leadership, says Sunethra, who was a stunning 16 that year, going back in time. Sister Chandrika was 14 and brother Anura just 10.
Sirimavo didn't want it. "It was a daunting prospect – she was still grieving and she was not a politician," says Sunethra. But the pleas and urgings came fast and furious.
Lead the campaign, they urged. "Madam, without you we may not be able to win this election."
Tactician Felix Dias Bandaranaike tried a different move – "He got round Chandrika and Anura," laughs Sunethra. "He influenced my sister who was a born politician and my brother and they both said, 'Yes'. He didn't approach me, for I was never interested in politics, I kept away from politicians as I do even now."
Sitting in a corner immersed in whatever book that fascinated her at that moment, Sunethra only told Amma to please do whatever "you think is best", when she asked her opinion. "I didn't say yes or no."
Sirimavo was in a quandary – to take to politics or not? Many were the talks she had with her own mother Rosamund Ratwatte, sister Patricia and brothers Barnes, Macky, Sivali and Clifford.
"The brothers were totally against it," says Sunethra – they had already lost their brother-in-law. Sirimavo a staunch Buddhist also sought guidance from her religion in her dilemma, ultimately giving in when party supporters pointed out that it was her duty to take forward the policies of her dead husband.
That was what clinched her decision, points out Sunethra, adding that her religious beliefs, ethics and values gave her the self-confidence to take up this challenge. Brought up with strict Victorian values, she was disciplined and ethical.
Citing more recent examples, where her strong will, it wasn't stubbornness, held sway, she says, Amma was determined to cast her vote at the October 2000 election and she and Sirimavo headed for Nittambuwa early that morning. On their return trip, Sirimavo had even wanted to stop at Balummahara to buy pineapples. It was at Kadawatha that her head dropped down a little as if she was dozing and she breathed her last. There were no signs of pain.
This was the same quality which helped her face with courage and equanimity the "unfair, unjust and vengeful" action of stripping her of her civic rights. "She was upset, more upset than at losing the election. She had been tried by a kangaroo court. It was a move to knock a political opponent out of the arena. But she gathered her strength, calmed herself down and picked up her life," says Sunethra.
She never vacillated whatever hard decisions she had to take. Though at the beginning some derogatorily called her a housewife who had been pushed into politics, later even in times of crises she stood strong, being called the "only man in the Cabinet" during the 1971 Insurgency.
These were the qualities tempered with a sense of justice and understanding which still make the masses of Sri Lanka refer to her so many years after her death as "Ape Methini". These were also the same qualities which made her stand tall in the international arena, amidst greats such as Jawaharlal Nehru, Josef Tito and Chou En Lai.
She had charisma, says the daughter with a touch of admiration. She exuded this air of being dependable, that she could be relied on and trusted. Back in 1960, soon after she made up her mind, Sirimavo hit the campaign trail, acknowledging the fact that what helped her to gather the masses around her was her training at the Mahila Samithi.
V-Day was July 20, 1960 and it was a landslide victory for the SLFP. The understanding among the party hierarchy had been that though Sirimavo did not contest the election, if the party won she would become the Prime Minister.
Action followed understanding. Sharp at 4.30 p.m. on July 21, 1960, Sirimavo solemnly took the oath as Prime Minister before Governor-General Sir Oliver Goonetilleke at the swearing-in ceremony held at his residence. She was 44 years old.
That day in this tiny island, the world's first woman PM came into being beating the likes of Golda Meir of Israel, Indira Gandhi of big neighbouring India and Margaret Thatcher of the United Kingdom. The defining historic moment……….not only for Sirimavo and Sri Lanka but also for the world. The rest, of course, is history.
The good and the bad, the book has it all
It is more than just a celebration of the life and times of someone who brought honour to Sri Lanka. It is a no-holds-barred look, warts and all, at her achievements and failures, her triumphs and travails.'SIRIMAVO Honouring the world's first woman Prime Minister' to be released on December 7 to commemorate the 50th anniversary of this signal achievement by Sirimavo Bandaranaike which fell on July 21, 2010, is "not an exercise in hagiography", assures Editor Tissa Jayatilaka and certainly not praise for praise's sake.
Jayatilaka who is Executive Director of the United States-Sri Lanka Fulbright Commission and a visiting Lecturer in English at several universities in Sri Lanka and the United States has edited many noteworthy publications.
It is a dispassionate analysis of her contribution to public life, he discloses. That is how her eldest daughter Sunethra wanted it when the idea for a commemorative volume had come up at the Bandaranaike Museum Committee.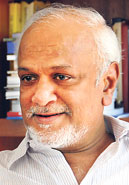 Tissa Jayatilaka
When Sunethra called, I said I'd love to do it, he says, not only because he felt he had the competence but also to pay tribute to Mrs. Bandaranaike. Though she was not a relative or a friend she had helped him out during a personal crisis when his daughter fell ill and had to be taken to Singapore in 1994…….. "she went out of her way to move the wheels of bureaucracy to help us".
For Jayatilaka, Sirimavo's greatest "endearing and enduring" quality was that she was a gentle and caring person. She stood out for that and in the contributions by 14 eminent personalities to this commemorative volume this is the quality which comes out, be it the 1971 Insurgency where she reacted more as a mother; on a state visit to China, walking into the room in her dressing gown, hair in a long plait, to help officials wrap gifts to be given to top officials; or making sure even when state matters weighed heavily on her amidst the 1971 Insurgency that public officials who came to Temple Trees were fed with snacks and served steaming cups of tea, knowing full well that they were working round-the-clock and would not have had even a scrap meal.
The contributors are Manel Abeysekera, the first Sri Lankan woman career diplomat, Leelananda de Silva, Senior Assistant Secretary and Director Economic Affairs, Ministry of Planning and Economic Affairs from 1970-77, Jayantha Dhanapala, former diplomat and UN Under-Secretary General for Disarmament Affairs, Gopalkrishna Gandhi, Indian High Commissioner to Sri Lanka from 2000-2002, the late Tilak Gooneratne, Civil Servant, Swarna Jayaweera, Coordinator in the Centre for Women's Research in Colombo, Ramya Chamalie Jirasinghe, author, the late Lakshman Kadirgamar, President's Counsel and Foreign Minister from 1994-2001 and 2004 until his assassination in August 2005, M.D.D. Peiris, Civil Servant, Jayadeva Uyangoda, Professor of Political Science in the University of Colombo, Bradman Weerakoon, Official Secretary to seven Prime Ministers, Jayampathy Wickramaratne, President's Counsel, Sam Wijesinha, Crown Counsel and former Parliamentary Secretary-General and Javed Yusuf, former Ambassador. The book designed by Deshan Tennekoon and Asvajit Boyle and published by the Bandaranaike Museum Committee has been printed by Gunaratne Offset Ltd.
Freedom was given to every writer to contribute a piece that was frank and balanced, and Jayatilaka is confident that has been achieved, with Jayaweera critiquing Sirimavo's second term in office during the 1970-77 period for bringing in radical education policies which included standardization; Uyangoda commenting on authoritarianism and the illiberal state including the takeover of Lake House; and Wickramaratne on the 1972 Constitution which could have been more accommodative towards the minorities.
This is what he believes makes the volume stand out against all others previously published in celebration of the lives of politicians. "Certain other volumes in honour of other political personalities have tended to be overly sympathetic or overly generous to their subjects," says Jayatilaka, stressing that in the case of Sirimavo's book, he as the Editor and the Bandaranaike Museum Committee made a conscious effort to avoid this pitfall and urged all contributors to be as constructively critical of Sirimavo and her policies as they wished to be.
Jayatilaka, however, has some regrets. Recognizing not only the importance of a gender balance but also an ethnic balance they approached both women and those of different ethnicities. The women did contribute but efforts to get some Tamil writers proved to be futile. This lacuna has been "more than adequately filled" by the inclusion of a speech delivered by former Foreign Minister Lakshman Kadirgamar in Parliament soon after Sirimavo's death in October 2000.
Jayatilaka believes it is an honour that Sri Lanka gave the world its first woman PM and this momentous event should be recorded for posterity. The book will be available at the launch and thereafter at the Bandaranaike Museum, BMICH. For information please contact 011-2691139.