The International Institute of Health Sciences (IIHS), the country's leading health care education campus has embarked on the ambitious goal of developing the quality of health care education in Sri Lanka. In this attempt IIHS has now become a TAFE South Australia Approved centre for Diploma of Nursing (Enrolled Nursing), offering Sri Lankan students the prospect of becoming qualified nurses through an internationally recognized, cost effective programme that enhances their overall skills and certifies employability across the world.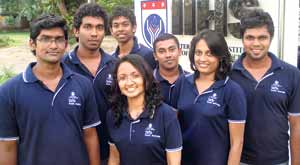 IIHS TAFE Students : Left to right - Front row- Milan Danushka, Evanka Fernando, , Gayani Jayasekara, Rukmal Kariyawasam, Back row-Ishan Edirisinghe, Aadhiyr Hassan, Kalpa
The Australian Technical & Further Education (TAFE) system is an internationally recognized post secondary (High School) education system that offers study programmes ranging from Certificate to Diploma and Advanced Diploma Levels. TAFE South Australia (TAFESA) is part of the "Vocational Education & Training" network of the South Australian Government, which ensures that the students are able to gain the skills required by employers.
Nursing is one of the most sought after professions in the world, with many perks such as working in an excellent environment with the support of a highly professional team. The career offers flexible working schedules and most importantly the earning capacity of between Rs 450,000 to 800,000 per month. There are ample opportunities for nurses in Australia, USA, UK, New Zealand and Canada where it is estimated that nearly a million Nurses are needed by 2020.
Elaborating on the Diploma of Nursing offered in conjunction with TAFE South Australia, Managing Director of IIHS Dr.Kithsiri Edirisinghe said "through this programme students get an opportunity to study for 18 months at IIHS and continue their studies in Adelaide, South Australia for the remaining 6 months. Once the 6 months are completed in South Australia, students will be awarded with the AQTF qualification in Diploma of Nursing. Upon the completion of the course, they can either opt to start their nursing career as an enrolled nurse or they can read for a BSc in Nursing, whilst working as an Enrolled Nurse. After completing their BSc, candidates can practise as a Registered Nurse in Australia or even move on to read for a Medical Degree."
Dr. Edirisinghe adds, "The pathway to become an international Nurse is challenging and interesting but not impossible." He stresses on the fact that Sri Lankan students are very smart and easily trained, but the lack of opportunities is the hindering factor for their growth. Upon completion of this programme successful candidates can obtain registration on the Nursing Board of Australia as an Enrolled Nurse, or pave the way to secure employment in USA and Canada as a Licensed Practical Nurse (LPN).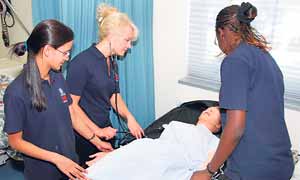 Skills Lab-Port Adelaide campus
Dr. Nihal de Silva the Dean of IIHS pointed out "In Sri Lanka, there is a stereotypical belief that nursing is merely caring for the sick. This is not true. Though nursing is based on caring for the sick, there are quite a lot of avenues one can explore in the field of nursing if one wishes to do so. Nursing will never become a saturated market and it's important to remember that there is a great demand for professionally qualified nurses in any part of the world. This demand keeps increasing every year. Nursing is a noble profession, that brings you respect from all sections of society. As a qualified nurse, not only do you get to serve society meaningfully you are compensated duly for the hard work you put in."
Ms. Nishani Kulatunga the Chief Operating Officer of IIHS states that students, who pursue the Diploma of Nursing (Enrolled Nursing) at IIHS, will find themselves in an advantageous position as they would enjoy an 18 month advanced standing with TAFE South Australia for Diploma in Nursing.
In addition, value added benefits like the cost effectiveness, adherence to International Standards, International Recognition, guaranteed success at IELTS and IT and a Personality Development Programme that develops their interpersonal competencies are offered through the campus.
We look into all the aspects of these students where we want them to not only be competent in their work but be confident in the international environment". Ms. Kulatunga further stated that the first batch of 12 students currently following the programme at IIHS, have now completed the first of their three semesters in Sri Lanka. Taking this pathway through IIHS, students can save nearly 4 million rupees. The total cost of the programme, including the period in Australia amounts to approximately 1.35 million rupees. This is most advantageous as an Enrolled Nurse or LPN can earn this back in 3 months.
Evanka Fernando, a student of the 1st batch says, "I studied at Good Shepherd Convent, Colombo. From my youngest years, I had a dream to become a Doctor but I could not get into a local university and following a programme in a foreign University was too expensive for my parents to afford. Luckily I enrolled for the TAFE Diploma of Nursing at IIHS, after completion of which I can earn nearly Rs 4.5 lakhs per month as a nurse and join an international MBBS programme. This way I won't be a burden to my parents".
Another student hoping to pursue an international career in Nursing is Addhiyr Hassan from Crescent International College, "I enrolled for the Diploma of Nursing programme at IIHS after my O/Ls. My aunt is in Australia and I would like to go there as well, and she advised me to follow Nursing as a career because there is a high demand for Nurses globally and the profession of Nursing is already in Australia's Skilled Occupation List.
"I always wanted to work as a Nurse in an international hospital" says Rukmal Kariyawasam, from De Mazenod College, "after A/Ls I was selected to the BSc Nursing Programme in a state university and whilst studying in the university I realized that it would take 6 to 8 years to reach my goal. This is a long process and now I have changed my path to achieve my goal faster, enabling me to work in an International Hospital in 2 years' time.
I really enjoy studying this Australian programme since it is competency based learning and indeed it facilitates students to study each module in an effective manner." Gayani Jayasekara, another student following the programme at IIHS states "Before joining this programme I worked as a teacher, employed by the government. I was a little reluctant to leave a secured government job but I later realized that to work in an international setting and to earn a stable income and give my family a better quality of life, I had to make a change."
Registration is now on for the second intake of the TAFE Diploma of Nursing programme scheduled to commence in November 2010. A batch of 15 students will be enrolled and the opportunity is open to students who have sat the A/L exam in any stream.
Other health care programmes offered at IIHS include BSc in Nursing-Edith Cowan University-Australia, BSc in Nursing- Open University of Malaysia, Diploma in Nursing/Physiotherapy/Pharmacy, Master's of Health Services Management, and Diploma in Aged Care (Care Giver) and also IELTS under the faculty of languages.
For more Information and Registration do contact IIHS on 0114 651 144, Nishani on 0773114391, Sabeethan on 0774142398 or Amila on 0773114381. IIHS is located at number 704, Negombo Road, Welisara. More details could be obtained from their website www.iihsciences.com