Environmental Resources Investment PLC, the rapidly-growing investment company, recently purchased a 66.4% stake in the issued capital of Colombo Pharmacy PLC for a total consideration of Rs. 555.56 million.
"With this transaction, Colombo Pharmacy PLC joins the ERI family as it's 8th member," a statement from ERI said this week. According to the rules of the Colombo Stock Exchange, this share purchase was immediately followed by a mandatory offer from ERI to purchase the remaining 33.6% amounting to 427,706 shares of the issued capital of Colombo Pharmacy for a consideration of Rs. 279.63 million at Rs. 653.80 per share.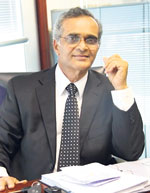 ERI Chairman Lalith Heengama
"We are delighted that Colombo Pharmacy has joined the ERI family, and look forward to unleashing the immense potential that it offers – under the guidance and best practices that are the hallmarks of ERI - for the betterment and benefit of our loyal customers as well as the medical profession in general," Romesh De Mel - Chairman/CEO Colombo Pharmacy PLC was quoted as saying in the press release.
Colombo Pharmacy PLC ownes and operates City Dispensary and IC Drugs Pharmacies and is one of the oldest public quoted companies in the pharmaceutical trade in Sri Lanka.
"We are confident that with our keen focus on good governance, financial expertise and discipline coupled with our knack for achieving operational excellence will enable Colombo Pharmacy to unleash its truly significant potential in the fast growing health care and pharmaceutical sector," noted Lalith Heengama-Chairman, ERI in the statement.
ERI said it will identify growth opportunities and companies with a significant potential to grow in the manufacturing, IT/infrastructure, financial and other strategic sectors, and invest funds and expertise to turn them around in order to maximize stakeholder returns.
Within a short span of one year, ERI has invested in a number of diverse companies such as DNH Financial (Pvt) Ltd, Ceylon Leather Products PLC, Environmental Resources Ltd, South Asia Textiles Lanka (pvt) Ltd., Olancom (pvt) Ltd, Enterprise Technology (Pvt) Ltd. and Dankotuwa Porcelain PLC with a vision to drive them towards sustainable growth and profitability," he added.