The Attorney General's (AG) Department, 21 months after the Golden Key crisis exploded in December 2008, is now ready to indict former Ceylinco Chairman Lalith Kotelawala, his wife-on-the-run Sicille and other directors on charges of criminal misappropriation of funds, fraud and breach of trust in connection with the Rs 26 billion scam.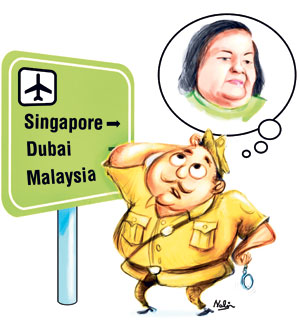 Sources at the AG Office said Attorney General Mohan Peiris told President Mahinda Rajapaksa at a meeting with GK depositors and officials on Monday that "criminal charges will be filed against Kotelawala, Sicille and other Golden Key directors soon with the completion of the ongoing auditing process".
They said the indictment was being prepared to charge the accused under the Penal Code and pointed out that the long delay in filing indictment was due to the collection of evidence and auditing process which is still going on. A major part of the investigation has been completed and enough material collected to file indictments. Another reason for the delay was the failure to arrest Sicille Kotelawala, who was originally believed to be hiding in Singapore and now is believed to be either in Singapore, Dubai or Malaysia. The former Ceylinco director will be tried in absentia.
These suspects are to be indicted in the Colombo High Court under Section 388 of the Penal Code for criminal breach of trust, on Section 386 for embezzlement and Section 398 citing fraud. In the meantime the trial at the Mount Lavinia Magistrate Court is continuing as the inquiry has not been completed and the Criminal Investigation Department is continuing its probe related to these charges on directives issued by the AG.
The sources revealed that attention has been drawn to filing charges against Kotelawala and the other suspects in a single trial which means at some point the Mount Lavinia case will be closed or withdrawn.