As there were hisses of protests by conservationists, the Export Development Board reiterated that there was only a request by a German delegation to export reptiles including "non-poisonous" snakes.
We will check whether it is doable or not and if the law says it can't be done we will not do it, said EDB Chairman Janaka Ratnayake, explaining that the EDB only acts as a facilitator and is not mandated to do business.
"Our job is to facilitate exports. We are not directly or indirectly engaged in exports," he said, explaining that if locals want to get into the export of reptiles then they would have to get the necessary approvals from the relevant agencies.Perturbed that some of his officials had spoken to the media without his permission, Mr. Ratnayake said that disciplinary action will be initiated against them.
The German delegation which was in the country recently mainly comprised ornamental fish importers but included one member who inquired about reptile breeding and exports from Sri Lanka to Germany, he said.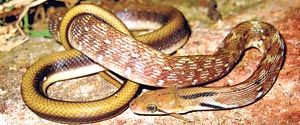 Trinket snake or Katakaluwa
The Germans are trying to act as "middlemen" to get reptiles including snakes out of Sri Lanka for the European market, said environmental lawyer Jagath Gunawardene, a view echoed by many other conservationists.
This will open the floodgates for all the wildlife in the country to be sent abroad, he said, stressing that such exports are detrimental to the country.
The effects of reptile exports will not only be ecological and ethical but also legal, the Sunday Times learns. Ecologically, who will decide which snakes are poisonous, mildly poisonous or harmless, asks Mr. Gunawardene, explaining that some of the most colourful snakes fall under the category of "mildly poisonous or harmless". All these snakes play a vital role in the environment and their removal will cause an ecological imbalance.
Seven snakes in Sri Lanka are categorized as "deadly poisonous" (defined as such as their bite may culminate in a fatality). They are the cobra, the Sri Lankan krait, the Indian krait, the Russel's viper, the saw-scaled viper, the hump-nosed viper and the green-pit viper, according to experts. The green-pit viper has been included even though so far no "authentic deaths" have occurred from its bite, it is learnt.
The ecological picture is bleak – Sri Lanka does not have any knowledge base of breeding snakes domestically and keeping them in captivity, the Sunday Times understands which would lead to many dying in attempts to do so and being replaced regularly.
This will lead to the exploitation of snakes in the wild, says Mr. Gunawardene, pointing out the plight of some varieties of fish which have suffered this fate.
If reptiles including snakes are to be taken for exhibitions, year in year out, who will monitor the process? There is no state agency with the expertise of doing this vital task, he says.
Pointing out that currently even though keeping snakes in domestic environments is illegal, he says many have been the instances where it has happened and such specimens have been taken out of the country surreptitiously. Even at present German dealers are openly announcing the sale of reptiles illegally taken out from here.
Legalizing exports will not only make it easier but open the door wide. With regard to the legal status, the Sunday Times learns that under Section 30 of the Fauna and Flora Protection Ordinance (FFPO), all reptiles except those deemed deadly poisonous, are protected.
The law prohibits possession of all reptiles considered "non-deadly poisonous" and breeding of any such variety can be done only for ex-situ conservation or scientific studies, for which a permit from the Department of Wildlife Conservation is mandatory.
Referring to the export of reptiles, Mr. Gunawardene said it can be only for scientific purposes; for conservation or exchange. It is certainly not for commercial purposes.
Many officials who totally disregard the law paint the wrong picture to the higher authorities and tar conservationists with a black brush wrongly indicating that they are opposed to earning foreign exchange for the country, conservationists said.
They try to encourage the authorities to amend or even violate the law, they alleged, for a fistful of dollars, in this case a handful of Deutsche Marks.
The FFPO is in place to stop the commercial exploitation and abuse of animals, other conservationists said, adding that it had prevented Sri Lanka going down the slippery slope like many other countries to an ecological disaster. Violation or amendment of the FFPO will be a dangerous move and place in jeopardy conservation efforts which should get priority.
Don't open Pandora's Box, pleads Mr. Gunawardene, lamenting that it will lead to the extinction not only of reptiles but all wildlife in the country.
Smuggling specimens: Germans have bad track record
Some Germans have a dishonourable record of smuggling specimens from Sri Lanka over the last 60 years, alleges conservationist Jagath Gunawardene.
From the 1950s up to now, two endemic species of fresh-water fish and an endemic aquatic plant have been smuggled out of Sri Lanka.
The fish are Rasbora nigrimarginata, believed to have become extinct in this country but described at length in Germany and Aplocheilus warneri (Uda Handaya), says Mr. Gunawardene, adding that luckily Rasbora nigrimarginata has been re-discovered here recently.
The aquatic plant, Lagenandra erosa, has not only been taken to Germany but named and bred there and is now available for sale on the internet, he says, lamenting the fact that it is no more part of our habitat.
Patent applied for peptide component of Katakaluwa
The pharmaceutically active peptide component found in the sebaceous glands of colubrids of the genus Coelognathus helena helena, including the trinket snake found in Sri Lanka, has been registered for patenting by the German firm, Abitec Angewandte Biotechnology, Mr. Gunawardene said.
The patent application has been registered under WO 2008/074872 at the World Intellectual Property Organization. The application has more than 150 designated countries which means they intend to get patent in the countries mentioned, ironically including Sri Lanka, where the trinket snake (Katakaluwa in Sinhala) is found, he added.
The peptide component has a non-clotting factor and this had been discovered and published by Sri Lankan scientists several years ago, it is learnt.