The well-known tenor-soloist priest, Fr. Claver Perera is no more. He passed away last Thursday.
Fr. Claver, a priest of the Archdiocese of Colombo, who lived in semi-retirement at All Saints' Church, Borella wrote a weekly 'Sunday Reflection' to the Catholic Messenger.
His solo written work, 'Seasoned Timber' containing poems and reflections was published recently.
Having completed his school career at St. Peter's College, Bambalapitiya, he gained his BA (English) from the University of Peradeniya in 1960.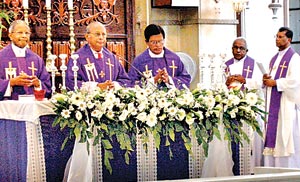 The Archbishop of Colombo the Rt. Rev. Dr. Malcolm Ranjith and former Archbishop Rt. Rev. Oswald Gomis presiding at the concelebrated Requiem High Mass for Rev. Fr. Claver Perera at All Saints Church in Borella last evening. Pic by Athula Devapriya
His priestly education in Philosophy and Theology he received from the National Seminary, Ampitiya and the Collegio Urbano de Propaganda Fide in Rome where he secured his Baccalaureate in Philosophy and Licentiate in Theology.
Fr. Claver was tenor-soloist in the then 70-strong choir for five years. As Assistant Pastor of St. Mary's Church, Bambalapitiya, he formed the all-male St. Mary's Choral Group in 1967 which gave regular choral performances at the Lionel Wendt. At St. Peter's College, his alma mater, he directed the college choir which gave many a public concert, was Drama Director and served for 12 years in various administrative capacities, eventually becoming the first Old Boy Rector in 1975.
He went back to St. Mary's Church as Parish Priest in 1980; took up the post of Spiritual Director of the National Seminary in 1989 while lecturing in Speech and Voice Production and English Literature at the Philosophate and the Theology of Prayer, Spiritual Direction and Counselling and Social Communication at the Theologate.
He was Moderator of the English Academy for 17 years and Drama Coordinator. In 2005, the Golden Jubilee of the National Seminary, he organized the English Academy's public concert of Choral Music and Drama (Part II of T.S. Eliot's 'Murder in the Cathedral') at the Lionel Wendt.
Many will miss not only his voice but also his guidance. His funeral took place yesterday at the General Cemetery, Kanatte.