A.A. Wagisha Desaman is just seven years old, with a long life ahead of him. He and his mother, M.G. Lasni, from Kuruwita, Ratnapura have to pay numerous visits to the Lady Ridgeway Hospital for Children at Borella. But he is lucky, for many others with his condition are no more.
Wagisha has been sick from the time he was four years old, complaining of stomach aches and difficulty in breathing, says Lasni. It has been a traumatic time for them.
Desperately seeking help from one doctor or another, Wagisha was fortunate to be sent to the LRH where the staff, through a diagnostic test considered primitive, detected what was wrong with him.
It was then that Consultant Paediatrician Dr. Jeevani Sarachchandra advised Lasni to stop feeding proteins to Wagisha.
| | |
| --- | --- |
| | |
| Dr. Punchihewa | Dr. Jasinge |
For, he is suffering from a disorder, passed through the genes, identified as Betaketothiolase deficiency - an inborn error of metabolism, the Sunday Times understands.
No one knows the prevalence of this group of genetic disorders because Sri Lanka does not have the facilities to diagnose them.
"These disorders can be identified by testing blood and urine," says Consultant Chemical Pathologist Dr. Eresha Jasinge, explaining that the paper chromatography diagnostic test introduced at the LRH's Chemical Pathology Laboratory in 2005 with the help of Chief Medical Laboratory Technologist Padmini Miriyagalla and Medical Laboratory Technologist Chandima Vithana was of great help to some children but is now quite outdated.
Even this was begun only after many desperate parents from all over the country brought children to this premier children's hospital with undiagnosed illnesses.
The parents not only of bigger children but also babies had already done the rounds, gone doctor-shopping and subjected their children to a battery of tests, at huge economic and social cost. The LRH was their last resort -- but to no avail, for no firm diagnosis was forthcoming.
The symptoms were wide and varied – from birth itself, no weight gain and failing to thrive, repeated bouts of vomiting and diarrhoea, changes in physical appearance such as the colour of the skin and hair, no milestones usual in babies like smiling, crawling etc., development delays and unexplained convulsions, breathing difficulties.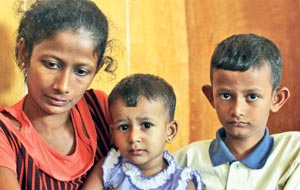 Lasni with Wagisha and younger daughter.
The worst was unexplained death – without a diagnosis. The LRH doctors were not only puzzled but also perturbed, for children were dying and they didn't know why. At that time the paper chromatography test came in handy.
"We have received several samples from all parts of the country since 2005 and even though we found the abnormalities in some samples through the paper chromatography, we couldn't come to a definitive diagnosis as we don't have the vital Tandem Mass Spectrometer," laments Dr. Jasinge.
With no option available in the country, LRH began sending urine and blood samples to the Royal Children's Hospital, Melbourne, Australia in 2008 with the support of Consultant Chemical Pathologist Dr. Dayanath Bolongnage and in May 2010 to Neogen Laboratory in India, it is learnt. Of the 44 samples sent to Australia and 17 to India, we were able to identify about 10 different cases of inborn errors of metabolism, says Dr. Jasinge, proving that these diseases are prevalent in Sri Lanka but may go undetected due to lack of facilities. "We could not send all the abnormal samples detected by the paper chromatography technique but only a limited number to these foreign centres due to the high costs involved," she points out.
The disease is hereditary, with a predisposition in babies born into consanguineous marriages, explains Consultant Paediatrician Dr. Pushpa Punchihewa. The needs are very clear. It's a matter of life and death for these babies. If when they have early manifestations such as mild fever and common illnesses are ruled out, inborn errors of metabolism disorders are detected, simple and timely interventions like appropriate feeding can save lives, the Sunday Times understands.
The more delays in diagnosis, the worse the prognosis is, with abnormalities and mental retardation creeping in……..and finally death. Dead without a fighting chance at life because Sri Lanka which boasts of very low rates of infant deaths lacks the equipment to diagnose these disorders.
Vital machine needed
The medical expertise is there. The space is there. The only thing missing is the Tandem Mass Spectrometer and the Gas Chromatography Mass Spectrometer which cost Rs. 50 million. A proposal to acquire this has been forwarded to the Health Ministry by LRH Director Dr. Mahanama Rajamanthrie.
Please help us get this machine and save the life of many a child, is the plea of the LRH not only to the corporates but also to individuals as well as the Health Ministry. If you wish to help, you may contact Director LRH on 011-2691521 or email directorlrh@yahoo.com for further details.
What are inborn errors of metabolism?
A child afflicted with one of these rare genetic disorders cannot turn the food he/she eats into vital energy which is needed for any human being to function. Defects or deficiencies usually in specific proteins (enzymes) that help break down (metabolize) parts of food cause these disorders.
Food that is not broken down into energy and absorbed by the body can build up as by-products and result in many a symptom.
Inborn errors of metabolism detected at LRH :
Betaketothiolase deficiency -- An inherited disease caused by the inability of the body to effectively process the protein building block or amino acid called isoleucine. The symptoms include vomiting, dehydration, difficulty in breathing and occasionally convulsions. These ketoacidotic attacks usually follow infections, fasting or intake of proteins containing isoleucine.
The treatment of an acute attack will include hydration and infusions of bicarbonate and glucose. Children should avoid long spells without food but eat a low protein diet.
HMG Co/A lyase deficiency -- Another inherited disease caused by the inability of the body to process the amino acid called leucine. The symptoms include vomiting, dehydration, difficulty in breathing and convulsions. The disease prevents the body from making ketones, which are used for energy during fasting and an infection. Hence babies present with very low glucose levels (hypoglycaemia).
Treatment is similar to that of betaketothiolase deficiency.
Maple syrup urine disease (MSUD) -- In this condition the amino acids (leucine, isoleucine and valine) and their toxic by-products tend to accumulate in the blood. The disease is characterized in an infant by the presence of sweet-smelling urine, with an odour similar to that of maple syrup. Infants with this disease seem healthy at birth but if left untreated suffer severe brain damage and eventually die.
From early infancy, symptoms include poor feeding, vomiting, dehydration lethargy, hypotonia, seizures, hypoglycaemia, ketoacidosis, coma and neurological decline.
A diet with minimal levels of leucine, isoleucine and valine must be maintained to prevent neurological damage. As these three amino acids are required for proper metabolic function in all people, specialized protein preparations containing substitutes and adjusted levels of the amino acids have been synthesized and tested, allowing MSUD patients to meet normal nutritional requirements without causing harm.
Medium - chain acyl - coenzyme A dehydrogenase deficiency ( MCADD) -- It is a defect in the metabolism of fat, another energy source in the body.
If you are healthy this may not cause significant problems. However, when such people do not eat for prolonged periods or have increased energy requirements, the impairment of fatty acid oxidation may lead to fatty acid buildup, hypoglycaemia, and, possibly, sudden death.
The first symptoms of such an episode, termed a "metabolic crisis", are vomiting and lethargy, and typically present before the onset of hypoglycaemia. Twenty to 25% of undiagnosed cases are fatal and many survivors are left with severe brain damage after particularly severe crises.
There is no cure for MCADD, but once diagnosed, adverse effects can be prevented by proper management. The most important part of the treatment is to ensure that patients never go without food for longer than 10–12 hours (a typical overnight fast).
Molybdenum cofactor deficiency -- The absence of molybdenum cofactor leads to the accumulation of toxic levels of sulphite and neurological damage usually ending in death within months of birth, due to the lack of active sulfite oxidase.
In 2009, the first person to be cured of molybdenum cofactor deficiency type A, Baby Z has made world medical and legal history in Melbourne, Australia. The patient was treated with cPMP, a precursor of the molybdenum cofactor.
Baby Z will require daily injections of cyclic pyranopterin monophosphate (cPMP) for the rest of her life.
Biotinidase deficiency – In this condition, biotin is not released from proteins in the diet during digestion or from normal protein turnover in the cell. This situation results in biotin deficiency.
Biotin, sometimes called vitamin B7, is an important water-soluble nutrient that aids in the metabolism of fats, carbohydrates and proteins. Biotin deficiency can result in behavioural disorders, lack of coordination, learning disabilities and seizures. Biotin supplementation can alleviate and sometimes totally arrest such symptoms.
Carnitine palmitoyltransferase I deficiency – This is a rare metabolic disorder that prevents the body from converting certain fats called long-chain fatty acids into energy, particularly during periods without food.
Signs and symptoms include low levels of ketones (products of fat breakdown that are used for energy) and low blood sugar (hypoglycaemia). Together these signs are called hypoketotic hypoglycaemia. People with this disorder typically have an enlarged liver (hepatomegaly), muscle weakness, and elevated levels of carnitine in the blood.