University of Moratuwa won the Inter University Regatta for the third consecutive occasion at the Beira Lake recently. This year's race was taken in as a part of the 3rd University Games. However this is the 27th edition of this race.
University of Moratuwa won the event by 26 points to 16. The women's events which was not a part of the race proper was won by the University of Colombo who made a clean sweep of the events
Results: B Sculls: Duleep Maduranga (Colombo University - 4.20 ) beat Thanitha Weerasekera (University of Moratuwa 4.27)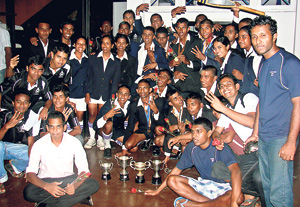 A Sculls: Damitha Aravinda (UOM 4.21) beat Prabath de Silva (UOC 4.35)
B-Pairs: Vidya Sandeepa and Geethan Malinda (UOM ) beat Thilakmanraj Pushparaj and Prabath de Silva.
A-Paris:Kasun Sandheera and Duleep Maduranga (UOC) beat Thisum Bhuddika and Damith Aravinda (UOM)
Double Sculls: Roshan Devinda and Malith Madushan (UOM - 4.24) beat Lishan Wickremanayake and Dinesh Packyanathan (UOC - 4.34)
Graduates Fours: Rudhira Tharanga (bow), Upul Abeyratne(two), Lakmal Arandara(three), Ashika Nuwan (Stroke) Dhananjaya Bandara (cox) (UOM) beat Chamikara Jayaneth (bow), Chamara Munasinghe (two), Champika Thushara (three) Chatura Samaranayake (stroke) Umenda Harshana (cox) (UOC)
C-Fours: Charith Kanchana (bow), Nuwan Amerawardena(two), Thiran Sellahewa (three), Padmika Jayasinghe (stroke) Chamal Jayasinghe (cox) (UOM) beat Dineshnath Pakyanathan (bow), Randimal Perera (two), Kanishka Keragala (three), Duminda Alwis (stroke)Sachith Weerakoon (cox) (UOC)
B-Fours: Dasun Ranasinghe(bow), Thilina Madusanka(two), Damith Aravinda (three), Vidya Sandeepa (stroke) Chamal Jayasekera (cox) (UOM) beat Amal Wickremasinghe (bow), Kanishka Madanayake(two) Thilakmanraj Pushparaj(three), Raveendra Lamahewa (stroke), Lishan Wickremanayake (cox) (UOC)
A-Four Boat Race-Madushanka Randika(bow), Thanitha Weerasekera(two), Geethan Malinda (three) Thisum Bhuddika (Stroke) G.L.A. Sunimal (cox) (UOM) beat Prabhath Perera(bow), Duleep Maduranga (two), Kasun Sandheera (three), Prabhath de Silva(stroke), Pumudu Ruhurage (cox).
Mens Overall Winners (Prof Stanley Wijesundera Trophy) - University of Moratuwa.
Women's events (No points awarded)
B-Sculls: Tharindi Panduwawala (UOC) beat Udari de Alwis (UOM)
A-Sculls: Dilini Jayasekara (UOC) beat Nithini Shayanara (UOM)
B-Pairs: Radhavi Samarakoon and Chamali Anuththara (UOC) beat Nuwanthika Rajapakha and Dilini Jayasekara (UOM)
A-Pairs: Savini Samarasinghe and Anne Jayaweera (UOC) beat Udari de Alwis and Tharindi Panduwawala
A-FOUR (BOAT RACE) Dilini Jayasekara (bow), Chamali Anuththara (two) Tharindi Panduwawala (three) Anne Jayaweera (stroke) Maryam Noordeen(cox) (UOC) Beat
Radhavi Samarakoon (bow), Udari de Alwis (two) Savini Samarasinghe (three) Nuwanthika Rajapakha (stroke) Harendra Amarakoon (cox) (UOM)