One of the oldest mosques in the Gampaha district, the Thihariya Al-Masjidul Rawla Jummah Grand Mosque, built in 1916 is being restored and rebuilt.
Several of is distinctive architectural features and antiques will be incorporated in the new three-storey building including its carved door frames, window panes with colourful glass, antique almirahs, a casket that weighs around 25 kg and other items used during earlier times.
Al-Haj M.T.M Munas, who has lived in the village of Godella in Thihariya for six decades says the mosque was built between 1914 to1916 and opened on February 16, 1916 with the help of wealthy families and villagers.
"My father used to say that villagers used to stand in a row from the Attanagalla Oya to the mosque as they passed baskets full of sand during construction. Artists in the village contributed to the construction of the minaret.
The women in the village handed over the income they earned by selling coir ropes also for this purpose," he said. Sir Solomon Dias Bandaranike, father of late prime minister S.W.R.D. Bandaranaike had sent one of his British engineers to help with the restoration when slight damage was reported a few years after the construction of the mosque.
"The porch of the mosque resembles the Horagolla mansion in Attanagalla, as it was built on a suggestion by the same engineer who designed the bungalow," Mr. Munas said.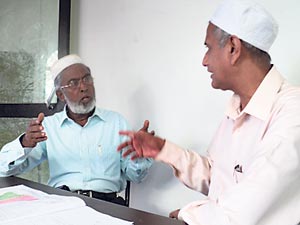 T.M. Munas and S.M.Nisam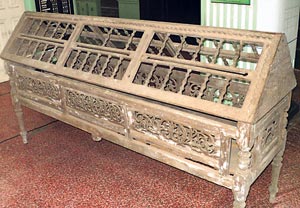 He said that he and others of the older generation are happy that the Building Committee of the Grand Mosque has decided to restore it. The influx of Muslim refugees from the North and East and Muslim families displaced by the 2004 tsunami has added to the growing population and now around 15,000 Muslims live in this village.
"With the increasing population there was a necessity to expand the mosque. The present structure of the building and space do not allow any further expansion and so we need to reconstruct it," treasurer of the Thihariya Masjidul Rawlah Jummah Mosque Building Committee, Al-Haj M.S.M.Nisam said.
Permission has been obtained from the Department of Muslim Religious and Cultural Affairs.
"Only 1000 persons can pray in the old mosque during Friday prayers but after the construction 5000 could accommodated. A women's prayer area and student learning centre (madrasa) will be constructed as well.
But some of the main architectural objects in the old mosque will be included in the new building," he said.
The projected cost is Rs 61 million and as the villagers struggle to make ends meet, they are hoping well wishers and kind donors will come forward to assist them.