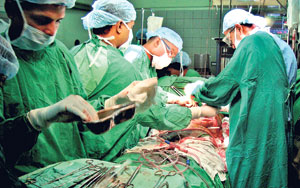 The transplantation in progress
He is off the bed and walking around, a week after the operation. On Friday, he requested an omelette, made up not with one, but three eggs. Earlier when he was allowed to take fluids it was coffee he opted for, after which he "scolded" the nurses in light-hearted banter for making it too sweet.
This was the 49-year-old chef and father of three from Nugegoda who was at death's door a week ago, having been at the National Hospital since March this year. Vomiting blood, suffering from encephalopathy, with a huge distended belly and kidneys close to packing up, he was suffering from end-stage liver disease. There was no hope for him. Or was there?
| | |
| --- | --- |
| Prof. Mandika Wijeyaratne | Dr. Anuja Abayadeera |
"For him, the only hope was a liver transplantation," explains Prof. Mandika Wijeyaratne, Professor of Surgery at the Faculty of Medicine, University of Colombo. However, Sri Lanka did not have facilities to perform such "major surgery" and many who needed this treatment had to seek medical services, earlier in Singapore, and more recently in India, taking along the liver donor with them, both at a huge cost.
Prof. Wijeyeratne and his team of doctors from the Medical Faculty were on the look out for a liver from a deceased donor and ready to undertake the challenge against overwhelming odds with whatever facilities available at the National Hospital since March this year.
It was then that they got word that in the NHSL's Neuro-trauma Intensive Care Unit was a 41-year-old construction worker who had tragically met with a motorcycle accident at Seeduwa. Not only had he suffered permanent brain damage but could not function without the life-support machine and would never be able to do without it.
When an independent panel declared him brain-dead according to international guidelines, his kith and kin had been approached and gently told about the hopeless situation he was in. They had willingly agreed to donate not only his liver but also his kidneys and eyes so that others may live with his organs.
Having dealt with legal and other formalities, as he had been involved in an accident, the crucial time had come for Prof. Wijeyaratne and his team.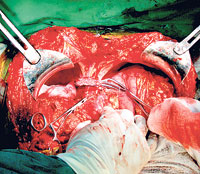 It was at the crack of dawn, 4 to be precise, on Sunday, June 27, that they scrubbed up and set about removing the liver and the kidneys of the accident victim in one operating theatre of the NHSL. While they completed their task by 6.30 a.m., a military-style operation was taking place in the adjoining theatre under the direction of Dr. Anuja Abayadeera, Senior Lecturer in Anaesthesia at the Colombo Medical Faculty.
Two hours preparation time it took to get the potential liver-recipient ready for the transplantation. "We put him to sleep around 9 a.m. on Sunday," says Dr. Abayadeera stressing that each and every minute he had to be monitored carefully.
Between the time the potential recipient's diseased liver was removed and the liver from the cadaver implanted in him there was a crucial gap when he would be "liverless". (See box for the importance of the liver)
It is known that when such surgery is performed there is massive blood loss, stresses Dr. Abayadeera, explaining that usually in other countries which undertake liver transplants, the hospitals are equipped with essential equipment called a "cell-saver" which will return to the patient most of the blood lost during surgery to ensure that the net loss is minimized. But this team had to contend without this.
Minute-by-minute monitoring was also vital to redress any changes that could occur and a Registrar was awaiting, with car engine revved up, to take blood samples to the Asiri Medical Laboratory and call back as soon as the test results were given if there was a problem.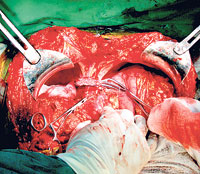 The electrolytes, acid-based balance and clotting had to be monitored, explains Dr. Abayadeera, for even mild changes could spell disaster. Usually, in other countries, a blood analysis laboratory with a cell-saver and thromboelastography (TEG – to test the efficiency of clotting in blood) facilities would be on hand, making the onerous liver transplantation task easier, but this team had no such advantage.
Meanwhile, Prof. Wijeyaratne and his team had removed the donor's liver, placed it in cold preservative solution in a rigifoam box storing it there, while hurriedly moving to the adjoining theatre where the recipient was.
They were anxious and the tension in the theatre was palpable as the long surgery took its course.
"During the 'liverless' time, the recipient's blood lactate levels would peak but normalize once the transplant was done. Liver enzymes were also high because the donor liver gets damaged during such a procedure," says Prof. Wijeyaratne.
The person who was close to death had been given a new lease of life, along with a brand new liver, after a 10-hour operation. He was out of the theatre and in the ICU at 8.10 p.m. on Sunday, says Dr. Abayadeera while he spoke to them, "through tubes, of course", the next morning at 8.
As they all hovered like mother hens around him, the doctors "nearly had heart attacks" when on Tuesday his blood pressure plummeted. The setback was caused by an infection because the donor had been having fever. But when administered the best brand of drugs, the fever came right down and the recipient became stable, the Sunday Times understands. That overcome, the patient is now asking when he would be going home.
While the surgical team under Prof. Wijeyaratne included Lecturer in Surgery and Specialist in Vascular Transplantation Surgery, Dr. Rezni Cassim and Senior Registrar, Vascular and Transplantation Surgery, Dr. Nalaka Gunawansa and the anaesthesia team under Dr. Abayadeera included Consultant Anaesthetist Dr. Bhagya Gunatilleke and Senior Registrars Dr. Kanchana Deshapriya and Dr. Mayuri Jayasundera, much had been the support that they got not only from the NHSL under Director Dr. Hector Weerasinghe and those at the National Blood Transfusion Service but also from the Director-General of Health Services, Dr. Ajith Mendis.
The theatre staff including the nurses and others were wonderful, says Dr. Abayadeera, overcome by emotion how even nurses who were off-duty thronged the theatres to lend a helping hand.
Like the liver-recipient for whom there is new hope where there was only despair before, there seems to be a spring in the step and rejuvenation of those involved in this effort, adds Prof. Wijeyaratne.
A pioneering stride -- truly a first for Sri Lanka - which needs to be sustained and nurtured.
The functions of the liver
The liver, which has a multitude of important and complex functions, is the largest internal organ in the body.
The liver produces proteins including albumin to help maintain the volume of blood and blood-clotting factors; produces, stores and processes fats including fatty acids (used for energy) and cholesterol; processes and stores carbohydrates, which are used as the source for the sugar (glucose) in blood that red blood cells and the brain use; forms and secretes bile that contains bile acids to aid in the intestinal absorption of fats and fat-soluble vitamins A, D, E and K; eliminates by processing and/or secreting potentially harmful biochemical products produced by the body; and detoxifies, by processing and/or secreting, drugs, alcohol and environmental toxins.
Donor's kidneys also transplanted
While the liver transplant was being performed at the NHSL, an ambulance from the Nephrology Centre of the Kandy Teaching Hospital had come down to Colombo, picked up the kidneys removed by Prof. Wijeyaratne from the brain-dead person and taken them back for a kidney transplantation.
A man and a woman who were on dialysis and in urgent need but didn't have any donors underwent the kidney transplant operations, said Transplant Surgeon Dr. P.K. Harischandra, explaining that it took him a total of seven hours to perform the procedure on one and then the other.
We hope people will donate organs after death, he said, adding that someone somewhere in the country will benefit from such a donation.