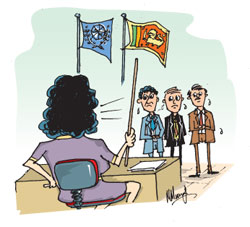 At a time when the Sri Lanka Mission to the United Nations should be gearing itself to battle Secretary-General Ban Ki-moon and his panel of experts who are threatening to probe war crimes, the office is in turmoil with sniping, backstabbing and charges of sexual harassment.
Less than a month after he was appointed, Sri Lanka's Deputy Permanent Representative Bandula Jayasekera, a former editor of the Daily News, has been unceremoniously recalled to Colombo. A similar fate befell Jayasekera's predecessor, Suresh Chandra, who was also recalled in less than six months after his appointment. Both were political appointees.
"That place is a mad house,"' says an External Affairs Ministry official who once served in New York. "There is a stream of complaints, petitions and anonymous letters coming to the Ministry every week. The right thing to do is to clean up the place by transferring every one of them out of New York -- at least for the greater good of the country." The inmates have obviously taken over the asylum -- Angoda-style, he added.
The complaints are heavily weighted against a junior diplomat who claims to have the right political connections in the Presidential Secretariat and is accused of ''terrorizing'' the mission staff, both diplomatic and non-diplomatic. According to reports reaching the ministry, she has openly threatened to politically engineer the transfer of any diplomat, junior or senior, if he or she crosses her path. In addition, she has kept to her word triggering a widespread sense of fear in the Mission.
Meanwhile, Jayasekera was not given any official reasons for his recall. A senior official of the ministry informed him of his transfer over the phone last week apparently assuring him a higher political appointment when he returns to Colombo. Whether this is a consolation prize or not remains to be seen.
---
Blue birthday for CBK
During those presidential years, everyone who was somebody or nobody tried to edge each other to become a guest.
However, this time, the 65th birthday party for former President Chandrika Bandaranaike Kumaratunga was a quiet one. There were only three guests — her sister Sunethra, close friend Mangala Samaraweera, leader of the SLFP (M), Centre for Policy Alternative director Paikiasothy Saravanamuttu.
It was on that day she heard the bad news that her Presidential security unit chief Nihal Karunaratne had been jailed by the courts.
---
BMICH job for ex-NGO boss
A former member of the Bandaranaike family and one time boss of a controversial NGO is now tipped to be a director of the Bandaranaike Memorial International Conference Hall (BMICH).
He was forced to quit the NGO post after a foreign government cut off funding over questions of expenses.

---
Erskine Mervyn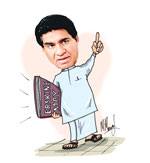 Speaker Chamal Rajapaksa brooks no nonsense. This week he gave a second warning to loquacious Mervyn Silva. It came after Mr. Silva kept on interrupting Sajith Premadasa (UNP - Hambantota District) when he was speaking on the budget debate.
Speaker Rajapaksa said there were schoolchildren in the gallery and Mr. Silva should guard his tongue. Children from 58 schools had turned up that day.
Mr. Silva bowed to the Speaker and said he was putting on his best behaviour. To prove the point, he held up a book he was reading. The subject? Well, it was on Parliamentary traditions by Erskine May.

---
Fiery row averted at troops' village
At the Ipolagama housing scheme where houses have been built for troops, tough security precautions were in place. Even water cannons were on hand.
It was after reports that two UNP politicians were to visit the area to rally round some who were protesting against a directive by the authorities to pay a monthly rent of Rs 4,000 for their houses.
The duo, however, were held up in Colombo for a party meeting and could not make the trip.

---
Lanka was there, since Shirley's time
I had erred last week in my reference to Palitha Kohona, Sri Lanka's Permanent Representative at the United Nations. External Affairs Ministry officials tell me that since Shirley Amerasinghe, the international diplomat of repute, Sri Lanka has headed the UN Committee on Israeli practices from its inception. Please see article titled "When Ambassador Amerasinghe upset the Egyptians" on Page 19 for details.