My dear Wimal,
I thought I must write to you because you are in the news once again, this time asking that the staff of the United Nations office in Colombo be taken hostage, until UN Secretary General Ban Ki moon dissolves the committee that he has appointed to inquire into whether Sri Lanka committed any war crimes in the final Eelam war.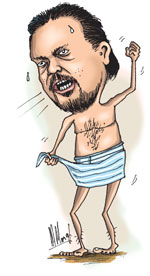 I think we do not realize what a national treasure you are Wimal, and that is one of the reasons why I am writing to you. There he was, this Ban Ki moon chap, going about threatening us with his panel of experts and all we could do was to voice our protests saying that it was interfering with our sovereignty.
We had Mahinda maama saying that he won't allow any international busybody to dictate terms to us. Then there was our absent minded Professor tearing what little hair he had left and screaming that Ban Ki moon was not within his rights to do what he was doing. Even that Japanese chap, Akashi, was saying the UN shouldn't meddle in the affairs of other countries. But Ban Ki moon didn't even bother to listen!
Why, even your rivals within the government, the Hela Urumaya fellows with Champika and Udaya at the forefront couldn't come up with anything effective. All that they could do was to march to the UN office, hold a few placards and threaten Ban Ki moon saying his panel would not be allowed to set foot in Sri Lanka.
Of course Wimal, one can hardly blame the Hela Urumaya chaps for not thinking straight-they must be just recovering from the hangover of getting rid of their leader. Well, I suppose they thought they could send a letter to Ban Ki moon by registered post and that would solve the problem!
But then, we didn't count on your brilliance Wimal. I suppose that must have come from years of studying King Kashyapa's tactics at Sigiriya, reading Hemingway's 'The Old Man and the Sea' and of course studying the terror tactics unleashed by your comrades in the late eighties. So, who else would suggest that we should take the UN staff here as hostages until you came along?

Just imagine the situation you could create Wimal. You could gather some of your sahodarayas and surround the UN office in Colombo. But in doing that I hope you make sure that you have enough of them because as far as we know, there aren't enough of your Jathika Nidahas Peramuna chaps to surround a bus halt, leave alone the UN office!
But then, that shouldn't be too much of a problem. All you have to do is just ask your ministerial colleague Mervyn and he will see to it that the needful is done with a bus from the Kelaniya depot and a 'deshapremi' squad armed with the ancient weapons of the 'stone' age!
Of course you would inform all the major television networks in advance. If you are lucky Christiane Amanpour or Peter Arnett would also be there in addition to our own Sudharman. And they would want a voice cut from you which you could give-through a translator of course. And all over the world before you could say Ban Ki moon, they would be asking 'Wimal who?'
Now Wimal, once you take all these people hostage you must insist that all those people who are raving and ranting about Sri Lanka-Ban Ki moon, Navi Pillay and even Eric Solheim-come to Sri Lanka to negotiate the release of your hostages.
Once they are here I think you should send them all to the Cinnamon Lakeside. That way you could say they were conspiring to overthrow the government and have them tried for treason. At the end of the day, just imagine what a hero you would be Wimal. Ah, Somawansa, Lalkantha or even the great Rohana himself won't be half as famous as you would be!
It is now that I realise why you thought of calling yourself 'Maubimey Panchayudhaya'. I know that people were trying to ridicule you by calling you 'Maubimey Pacha Ayudhaya' but now that the war is over and you don't really have to go to the battle front, you must surely be our greatest guardian angel or 'mura devathawa', to think of such ingenious schemes!
Anyway Wimal, I have been hearing a few disturbing remarks lately. First, they were saying that what you said was your individual opinion and not that of the government's. Then, they are saying that Sri Lanka would apologise. Now surely Wimal, we as a country shouldn't be apologising for what one individual says, should we? So, I think you should either apologise-or if you can't do that, resign honourably. Now if that happens, at least we can say that some good came out of this episode, after all!
Yours truly,
Punchi Putha
PS-Although I thought you were unique, I just remembered that we have someone else who took people hostage. Remember Sepala Ekanayake, who hijacked an aircraft in 1982? I thought I should tell you that he spent five years in jail for his efforts, but then that shouldn't bother you because there is always Mahinda maama to give you a pardon, isn't it?