Queensland University of Technology (QUT) is a highly successful Australian university offering internationally recognised courses and world-class research opportunities. QUT's courses are recognised internationally for their high quality. QUT's Faculty of Business was the first business school in Australia to attain the 'Triple Crown' of international accreditation from the UK based Association of MBAs (AMBA); US based Association to Advance Collegiate Schools of Business (AACSB International) and European Foundation for Management Development (EQUIS). The Faculty is one of only forty in the world and, currently, the only institution in Australia to receive accreditation with all three prestigious bodies.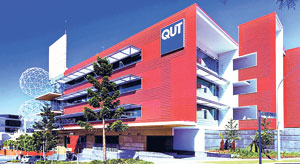 QUT's Institute of Health and Biomedical Innovation (IHBI)
Director International of QUT's Faculty of Business, Mr Andrew Paltridge, says the University's international accreditation with EQUIS, AMBA and the AACSB is of great importance and pride to the Faculty because it has reinforced QUT's international reputation. "Given the different requirements of the accrediting bodies, whether it be high benchmarks in the areas of research, teaching, quality of academic staff, corporate education or internationalisation, our Faculty continually strives to deliver excellence in all aspects of operations, to ensure research quality and that the student body is provided with the very best learning environment," said Mr Paltridge.
QUT's research performance is currently ranked in the top 10 of all Australian universities (2009 SCI-mago rankings) and the development of an AUD$200 million Science and Technology Precinct will ensure QUT's research profile continues to be one of the fastest growing in Australia. Research at QUT is positioned around a group of renowned Institutes, Cooperative Research Centres and Centres of Excellence that integrate ground-breaking technology and expertise to bring together Australia's most creative minds to solve local and global issues.
QUT's innovative research outputs are of the highest academic quality, and as Dean of Research and Research Training, Professor Rod Wissler explains, this is characterised by multidisciplinary partnerships and research topics relevant to the 'real world'.
"QUT's 2000 research students are engaged in cutting edge research with highly qualified supervisors across our four research institutes and our seven faculties," said Mr Wissler. "500 of these students are drawn from over 50 countries, making for a globally connected research training experience that is focussed on excellence and outstanding career outcomes," he said.
QUT research students are supported by the Research Students Centre and services provided include assistance in enrolment, candidature, travel grants, orientation, examinations and scholarships. Research students are able to apply for a number of scholarships and outstanding students may be eligible for tuition-fee waiver scholarships.
QUT offers an extensive range of Undergraduate, Postgraduate and Research courses, including Master's, Doctor of Philosophy (PhD) and Professional doctorate research degrees. For more information about research opportunities, visit: www.qut.edu.au/research/rhd. For further information on QUT, visit: www.international.qut.edu.au or email: qut.international@qut.edu.au .
Source: David Samuel, Business Development Manager, Austrade-Colombo. e-mail: David.Samuel@austrade.gov.au