St. Nicholas' International College Negombo ,the brain child of His grace the Archbishop emeritus Most. Rev. Dr. Oswald Gomis the chancellor of the University of Colombo Srilanka ,celebrates the 7th anniversary. It is undoubtedly a daring venture that has made all the difference in the field of education. At present the school has secured a prestigious position in the island in terms of her excellent performance in all her endeavours.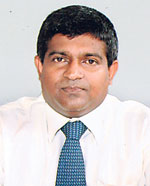 Lakmina Wijayatunga
The leadership of the college is a great inspiration that has created an ideal atmosphere for academic excellence. The visionary leadership at St. Nicholas' International College paves the way for a wholesome personality.
The architects of this holistic integral personality designed for both sons and daughters of this island make tremendous efforts to make these ideals a reality in a cultural, religious, academic, and disciplined, atmosphere. A total of 115 in the tutorial and administrative staff is professionally motivated to reach the clear objectives of the institute.
The chemistry behind the functioning of this academic institute is the very strategic plan and implementation. The administrative body is the hub of any institute. The anchor of these functions is the administrative staff who coordinate with teachers parents and students in a more charismatic manner while drawing their strength from principles of professionalism.
The strength of the college at present is 1400.These students have made a conscious decision to be part of the Nicholite community that is ever willing to share all the resources available with those who desire optimizing multiple intelligence.
Religious Knowledge
We are highly convinced of our spiritual perspective of students. A greater emphasis is made by preparing Christian students for O/L religious knowledge examination. We consider the holy Eucharist our source and summit of our spirituality. We foster an intimate relationship of Christ who is our model, and are instrumental in divine mission.
Curriculum
At present we conduct GCE O/L, AS, AL syllabuses of University of Cambridge as well as Edexcel London Examinations. We are extremely pleased with 100% result we have obtained in most of the subjects in science and commerce streams. Some of our students have already commenced their undergraduate programmes either in foreign universities, affiliated colleges or in university colleges.
We are competent in handling more than 20 major subjects that are with a wider selection options. We have pioneered to offer Law and Art and design subjects that are with higher career prospects.
We are logistically prepared to elicit best from our young minds by updating, monitoring, evaluating, and synthesizing our strategic plans that have made our endeavors a complete success. We constantly conduct training programmes for our resource personnel with the assistance of relevant subject think tanks who have had international exposure of pedagogy.
Sports.
College provides various opportunities for students to engage in variety of sports activities.
Cricket, basket ball, net ball, tennis, and badminton are coached by experts under the guidance of a professional sports coordinator. Our objectives are based on sound principles of morally autonomous character that propagates team spirit more than ego centric attitudes that secludes ones freedom of existence.
The annual athletic meet is yet another major event that recognizes and appreciates numerous talents of our athletes. A healthy competition is promoted among athletes with a sense of true sportsmanship. Both victory and defeat is facilitated with much respect and honor. The outcome of this physical exposure is very much instrumental to construct self esteem among our athletes.
We are very much conscious that we must give our best to children. It is in this perspective that we have made swimming a significant activity. Their world is been transformed in to a happy experience with their mind relaxed. Safety and maintenance of the pool is considered our utmost priority that is fulfilled by a professional staff.
Newly introduced game of chess would help improve mental stamina of our students. Failures are accommodated in good faith with the hope that one is well prepared to encounter ones life struggles in real situations that involves prudent decisions. Consequently we foster men and women of great caliber with a highest sense of integrity.
Societies
Commerce society, Science society, and the English literary association provide opportunities for our students to be innovative and creative in their fields of interest.
The Science Laboratory
We own a fully fledged laboratory to conduct demonstrations on Physics, Chemistry, Biology and Human biology. It is a real privilege for students of this region to have the rare access to observe certain experimentation done under international standards.
The Computer Laboratory
Computer literacy is highly encouraged and it provides many opportunities to complete their assignments with the help of instructors.
The library
Reading is highly facilitated with variety of reading material either in printed or electronic media.
Music
We are deeply touched by the universal language of music. Breathing techniques and voice culture are practiced with great enthusiasm. Classical music is promoted .The College choir participate in various television and radio programmes. Eastern and western classics are given greater importance. Latin music is very much dear to our students.
Dancing
The aesthetic view of life is nourished with both eastern and western dance. The young Nicholites perform brilliantly in all our major events of the college.