Ghazi Cader a year eight pupil at Dedworth Middle School in Britain whose parents are Sri Lankans, was recently placed 20th in the world after taking part in the 'World Maths Day' challenge.
Ghazi is the son of the late Al-Haj Salim Abdul Cader and Aroosiya Cader. He is also the grandson of the late Mr.I.A.Cader (former Deputy Speaker, Senator and Sri Lankan Ambassador to Egypt).
The competition saw 1,133,246 students from 56,082 schools from 235 different countries answer 479, 732, 613 mental arithmetic questions correctly online beating the previous record.edia Sponsors for the event are Gold FM, Daily Mirror and the Sunday Times.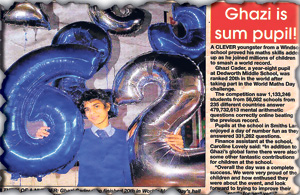 Ghazi Cader's story as it appeared in the Royal Borough Observer in March this year.