University of Salford, one of the UK's top universities, located just a few minutes walk from the centre of Manchester - home to one of the largest international student communities in Europe ranked Top 10 for Teaching Quality, Top 10 for Learning Resources, Top 1/3rd for Research and Excellent graduate employability.
We have a reputation for providing students with the skills employees require. As a result Salford is one of the top universities in the British university employment league tables. Salford University has established a successful global presence with a 2006/7 turnover of some £156m, four faculties, 12 schools, nearly 20,000 students, and 2,500 staff - serving the needs of industry and commerce. Salford has many international students -over 1500 from outside Europe. Salford is positioning itself at the leading edge of higher education institutions in this country.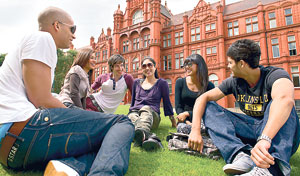 At Salford we make sure our programmes are innovative and applied. Students benefit from courses that approach subjects from a new perspective and programmes are applied to the world of work - giving students a great launch pad for their career. With hundreds of bachelor's and master's programmes available you are secure to find something to suit you.
Range of Programmes include Aerospace Engineering, Business/Management, Biotechnology, Hospitality/ Management, Quantity Surveying , Arts, Media & Social Sciences, Law & the Built Environment, Health & Social Care, Computing and Science & Engineering.
The University of Salford makes graduate employment one of its top priorities. What sets us apart is our commitment to boosting your job prospects and preparing you for the world of work. The local economy is thriving and there are many part time job opportunities for international students. The university provides free career service for all students.
The university welcomes candidates with Sri Lanka O/A levels as well as London O/A levels. The university also accepts a range of alternative reputable qualifications such as IB, HND etc. The university offers entry into levels 2 or 3 on a range of degree courses. Typical pathways include NCUK, HND and ABE. For PG entry normally at least 55% at bachelor special degree level (4 years) when awarded via reputable universities.
On April 10, 2010, Sri Lankan students have the unique opportunity of meeting Mr. Jeremy Burgess - Director of Admissions of University of Salford for on the spot admissions, academic advice and assessment.
Generous scholarships are also available for September 2010/2011 entry. Qualifying postgraduate taught students may be awarded £1000, £2000 or £5000 based upon academic excellence.
Undergraduate students may be awarded £1000 or £2000, £500 prompt payment discount also is available to all UG and PG students. Students can also receive free visa and financial guidance for their university studies in the UK.
Call us today on 0777 44 99 44 to reserve your seat for the 10.30 am session or 2.30 pm session at ANC University Representation, 308, R. A. De. Mel Mawatha, Colombo 03.
Please bring all original certificates (O/A Level, Degree, Diploma,) and academic transcripts plus one set of photocopies to expedite your application processing.