"Most of the proper practising happens in the car," confesses Rohan de Lanerolle. "Also we meet most of the time because of our work commitments and practise in the office itself," he laughs. "So while working on the computer, we also sing," smiles Ishan.
The de Lanerolle brothers are no strangers to the world of music and have been hailed as two of the finest voices Sri Lanka has produced. Rohan's stellar baritone voice has soared through numerous halls and cathedrals around the world and led to collaborations with renowned musicians.
Younger brother Ishan's clear bass has delighted Lankan audiences, filled the St Andrew's Cathedral, Singapore during their Christmas Carol Service and led him to be appointed President of the Revelations Academy of Performing Arts. Now, joining forces as a singing duo, the brothers are set to perform together at a concert to be held in Colombo on March 3.
"When we sang together, (even though we didn't realize it) people used to compliment us on our blend. We never realized what this 'blend' was all about until we actually recorded it," says Ishan elaborating on how the idea took root and came into being. While Ishan used to perform as a guest artiste many a time, the turning point the brothers explained, was their performance at The Platters Concert, recently. Having seen them perform, many urged them to take their performance to another level.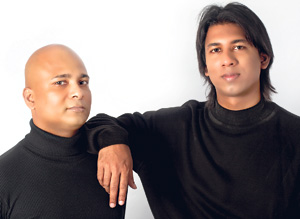 Music was an integral part of their lives while growing up, and it's no surprise that it figures large now. "Whatever music you like today is largely because of the music you enjoyed when you were small," says Rohan. "When I started listening to music, it was Engelbert, Tom Jones and Elvis Presley. After joining the 'Coro Philharmonie' formed by the late Rohan Joseph De Saram, I was introduced to classical music. I started listening to Beethoven, Wagner and from that point, I started collecting and listening to classical music." "He used to play the music so loud, inevitably my father and I (who weren't classical music lovers) started liking it," interjects his brother.
"They had to. They had no choice," chuckles Rohan. The music at their upcoming concert revolves around the music they grew up listening to, and with styles reminiscent of the 70's and 80's making a comeback in modern music, is bound to appeal to people of all ages. The concert will feature music of the likes of Jim Reeves, Glen Campbell, Elvis Presley and Frank Sinatra as well as quite a few Engelbert Humperdinck numbers ('The Last Waltz', 'Spanish Eyes', 'A Man Without Love' – to name a few), all delivered with their inimitable touch.
Says Rohan highlighting the informality of the concert, "If the music takes you there, just get on the floor. We're not holding people back. If, at some point of time the music makes you feel like doing a waltz or a cha-cha or something – please feel free." Guest performances at the concert include Geeth Prasanna, Shane Schuilling and Joy de Alwis from the recently concluded Yes Superstar as well as an up and coming all male choir.
While working together at Abacus Tea Pvt. Ltd (their family tea company), balancing family commitments, other responsibilities and a professional singing career in the process, the singing duo acknowledges that being siblings certainly has its benefits. Apart from their impromptu practice sessions, is the perception and coordination that it brings. Adds Ishan: "We have a very good understanding."
Both wildlife enthusiasts and music lovers, the brothers laughingly claim to be poles apart. "He is very gentle and mild. For me, it's the complete opposite," smiles Rohan. "Also, he has no hair and I have hair," quips Ishan.
From learning 187 sheets of music during the duration of a flight to coping with malfunctioning mikes, the brothers' rich singing career are filled with memorable anecdotes behind the scenes. "However much you plan, there'll always be something that happens. It's the way you handle it," says Ishan. "It's all a part of showbiz," smiles Rohan.
Catch the de Lanerolle brothers in concert and enjoy classics from the 50's to the 70's on March 3 at the Waters Edge Battaramulla. Tickets for the dinner show are available at the Commons Coffee House and Waters Edge and are priced at Rs. 4,000. The show begins at 7 p.m. and concludes at 9. 45 p.m.
The de Lanerolle brothers are partnered by Ramani Fernando Salons, Aitken Spence Travel, Waters Edge, Harpo Productions and Leo Burnett and are supported by Dinesh Chandrasena, Jerome L. de Silva, Imran Saibo, Mohammed Adamally and Nafeesa Amirudeen. Platinum sponsors for the concert are Singer (Pvt) Ltd. Gold Sponsors are Dialog and Abacus Tea (Pvt) Ltd. Media sponsors for the event are Yes FM, MTV, Daily Mirror and the Sunday Times.