Friday, January 22- Bodhinagala: A group of us together with naturalist guide Sam Caseer arrived at Bodhingala around 10.30 a.m. having left the Jetwing office at 8.30 followed by a brunch stop. It had been dry for some time. Karen Conniff, Michael and Nancy van der Poorten who had arrived earlier said they had seen just six species of butterflies.
As we chatted a Blue Glassy Tiger flew past. We had 4-5 sightings of Clipper. One individual was badly damaged. The other species we recorded were a Ceylon Rose, Blue Mormon, Grass Yellow sp., Tamil Yeoman, Common Sailor and a Lineblue species which I photographed. The first stream had some freshwater shrimps in it and some fish like Mountain Loaches which I need to identify on my next visit.
There were two diurnal Geckos on tree trunks, probably a species of Cnemaspis gecko. A few Kangaroo Lizards (Otocryptis wiegmanni) were on the trail. None were displaying and were in dull colours. A star find was a young Green Vine Snake. Almost all of the spotting was done by sharp-eyed Sam Caseer.
There were two reasons why we went on this trip. One was to use a gap between tours in Sam's time to spend some time looking at dragonflies to ensure we had a few guides who had the necessary field craft to lead butterfly and dragonfly tours; secondly, to combine it with using images on Flickr for promoting eco-tourism.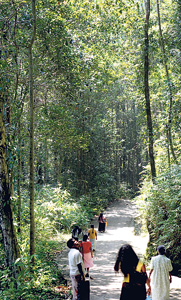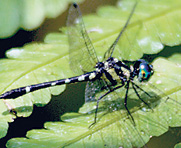 Yerbury's Elf
At the small cemented pond we found a Spine-tufted Skimmer (Orthetrum chrysis). The stream near the reserve also had Striped Rasbora (Rasbora daniconius) fish in it.
I commented that the cemented pond was a place where Yerbury's Elf (Tetrathemis yerburii) is seen. Before long Sam found two of them perched on ferns overlooking the water. Surprisingly we did not see any Forestdamsels (Drepanosticta spp.).
The damp ground near the water tank had Torenia cyanea in flower (Family Scrophulariaceae). This endemic plant seems to be always in flower when I visit Bodhingala.
Bird life was quiet and we did not hear or see Chestnut-backed Owlet, Crested Drongo and Green-billed Coucal. The endemics we heard included Ceylon Hanging-parrot, Ceylon Small and Yellow-fronted Barbet, Ceylon Spurfowl and Black-capped Bulbul. We saw the Ceylon Grey Hornbill.
Riaz Cader photographed a male Asian Paradise-flycatcher of the Indian race which had assumed the white plumage. We had a good view of a male Tickell's Blue Flycatcher.
Other birds heard included Yellow-browed Bulbul, Green Imperial-pigeon, Oriental Dwarf Kingfisher, etc.Both the endemic Toque and Purple-faced Leaf Monkeys were seen.
The Toque Monkeys were prospecting for food and seem to be becoming increasingly more confident in approaching people. A Giant Squirrel was heard alarming. It could have been responding to a predator like the Crested Serpent-eagle we had heard earlier.
Gehan de Silva Wijeyeratne is CEO of Jetwing Eco Holidays. These are lightly edited journal notes. Gehan is on www.jetwingeco.com, Facebook, Twitter and Flickr.
How to get to the bird track
Access: Birding is done on the one km or so of surfaced road that leads up to the hermitage from the 'car park' near a tube well at the base of the hill. From the main road (A8) it is about 2.5 km to the start of the birding track. There are no entry formalities to the forest reserve. The monks at the hermitage do not like to be disturbed and eco-tourists should not continue beyond the end of the dirt track to the hermitage.
The turn off to Bodhinagala from the A8 (which goes to Ratnapura) is just before the 29 km post on the A8 and on to the right through paddy fields. (Note that direct buses from Colombo to Ingiriya travel along the High Level road via Padukka and do not pass this turn off.
Go 1.4 km along the minor road from the A8, to a turn off on your left where a sign in Sinhalese will point to the hermitage. (If you miss this left turn you will reach the Kalu Ganga (River) 300 m away). From the left turn, the road continues for another 1.1 km and will come an area where it reaches a hill track near a tube well. Although the surfaced road up the hill is motorable you should leave any vehicles here and walk up through the secondary forest.