Old soldiers never die; they just don't even fade away. The words of this ditty went, or the likes of it did through my mind when I heard that Tony Amit was coaching the CH&FC rugby side. Not that Tony is over the hill or anything like that but I had interviewed him way back in the 60's when he captained the Maitland Crescent side when there were players like John Burrows, Nick Tait, Maurice Marrinon to name but a few for CH and they were a terrific rugby side then.
At a time when young coaches are dominating the scene Tony Amit continues to be at the helm of one of the greatest Colombo teams. He laughed when I said this to him and said that his only concern was that his wards would do well irrespective of what the interim committee did. Bimal Perera, the former national player is his Deputy.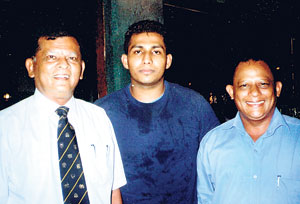 Tony Amit (Coach), CH skipper Dinesh Sanjeewa and Manager Anver Jayah.
Leading the CH this year is Dinesh Sanjeewa, formerly of Bandaranaike MV Gampaha and Ananda. At school he played as a centre and now with brawn added to his shoulders and arms, he turns out as a second row. This is his fifth year for the CH&FC.
Speaking about the players that they possess, Sanjeewa said that the Club was very sorry to have lost some promising schoolboy players to other clubs. "Nevertheless we have talent in abundance and they are bound to do well when the season progresses," opined Sanjeewa. They will obviously go flat out to give the stronger opponents a good run for their money.
Sathya Ranatunga of Trinity, Sajith Adhikari of St. Peter's, Jayantha Ranaweera the DS Senanayake College player who led CH in 2008, the dashing Dilanka Wijesekera of St. Peter's who captained CH in 2007 and who also had the distinction of leading the national team, Milinda Jayasinghe, Shane Dissanayake of Thurstan, Avantha Hettiarachchi of Dharmaraja (both playing as centres), Lakal Perera (St. Peter's), Indika Udayakumara (Dharmaraja), N.C. Buulner (St. Peter's), Shanaka Jayasinghe who captained St. Peter's in 2000 when the Peterites emerged triple champions in the schools scene, T. Jayah of Wesley, Asanka Perera of Dharmaraja and a host of young rugby players from S. Thomas' and Wesley have signed on with the Maitland Crescent Club.
CH last tasted the delights of being champions when they won the Caltex League in 2000 under the leadership of Nazim Mohammed after being runners-up in 1999. Tony Amit has loads of experience and should be able to lead his former team to glory this year. He has coached CH in 1988 and 1999 and was even national coach in 1996 and 1997 and in a long span of coaching has been in charge of the CR&FC, Havelocks and even the Galle Development Squad.
As a player Tony has been involved with the best of teams and has played against a multitude of top opponents. If ever there hails a coach with great experience, he is Tony Amit.
The turn up for practices is heart warming and Tony hopes that the authorities concerned would pay more attention to second strong teams as in the past when teams like the CR Bees, Havelock Bambaras, CH Kabaragoyas and the Police Griffins provided ample backup talent for their first XV teams.Shammi Silva is the Chairman of the CH&FC with Shane Dullewa as the General Secretary. The Rugby Chairman is Prasantha Wimalasena and the team is managed by Old Isipatanian Anver Jayah.