The Sri Lanka Body Building & Fitness Federation (SLBFF) is set to stage its 50th Golden Jubilee Novices Championships on an unprecedented scale, hosting a record number of 179 competitors from 35 different clubs.
Chairman of the SLBFF Interim Committee, Mr. Jeff Schucroft, said the Championships, which kick off on Feb 25th, will help garner popularity for the sport of Body Building as well as effectively filter potential talent who could represent Sri Lanka in future international events.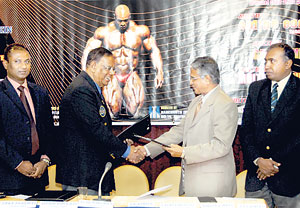 Jeff Schucroft Chairman of the interim committee of the SLBFF receives the sponsorship agreement from Mr. Komblal, representative for Harcourts (Pvt.) Ltd. Pic by Sanka Vidanagama
Schucroft himself has been one of the leading names in Sri Lankan Body Building over the past 40 years, securing countless accolades as an athlete before graduating to the administrative aspect of the sport.
Nearly three years ago when the SLBFF found itself embroiled in conflict and controversy Sport Minster Gamini Lokuge appointed Schucroft as the head of the interim committee. He assumed his post with a mindset focused on catering to the athletes needs and demands rather than those of his administrators, ensuring that the sport continued to progress.
Schucroft said he pledged then as he pledges now that he would re-establish the sport on the international stage and make sure it continued to progress. "I promise that before my time as Chairman of the interim committee expires I will make sure Sri Lanka wins a gold medal in Body Building," Mr Schucroft asserted.
The chairman went onto explain that the source of hope for Sri Lanka's dream of future gold rests squarely on the muscular shoulders of Prasanna Peiris. Prasanna won the silver medal in the 65kg weight category of the 63rd World Body Building Championships held in Doha last year.
The Novices Championships which will be the first event on this year's Body Building calendar, is sponsored by M/S Harcourts Ltd. Body Builders from the 55kg-85kg weight category will flex their muscles at the Colombo YMCA Fort and the Bishop's College Auditorium from 9.00 a.m on the 25th and 26th of February respectively.