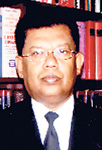 Mahinda Lokuge
Following nominations for the post of Secretary to the BASL which were received by the Solicitor General, Priyasath Dep President's Counsel, on 12th January 2010, Attorney at Law Mahinda Lokuge was elected uncontested to the post for the period 2010/ 2011.
A senior practitioner, Mr. Lokuge, has been a member of the BASL's Executive Committee for a number years in addition to being a delegate of the Bar Council for a very long time. He served as the Treasurer of the BASL from 2003 to 2005 and as its Vice President in 2006/7.
He has also chaired several committees of the BASL. An active member of the Colombo Law Society, Lokuge served as its Secretary in 1997/ 1998 and as President in 2006/ 2007.
Mr. Lokuge is an old boy of St. Aloysius College, Galle.