A coordinating secretary of Vocational Training Minister Piyasena Gamage has been remanded till February 18 by the Udugama Magistrate for allegedly assaulting a Forest Officer at Kanneliya and for disrupting the duties of Government officials.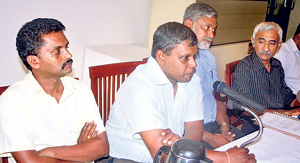 Forest Department officers at the news conference held in Colombo. At centre is Forest Officer Ranaweera who was allegedly assaulted.
Forest officer Sunil Ranaweera charged that the minister's Coordinating Secretary, Lucien Wijenayake, assaulted him on February 4, even though the Minister denied his supporters were involved in the assault.
Mr. Wijenayake was first arrested by Udugama Police but was given bail and was asked to appear before the Baddegama Magistrate on February 11. The police B report forwarded to the court focused on the assault whereas the report forwarded by the Forest Department included charges of disrupting the duties of Government officials and violating the forest reserve, which are non-bailable offences.
Assistant District Forest Officer J Zoysa who appeared in court on behalf of Mr Ranaweera said the order was also given to arrest three others who allegedly assaulted Mr Ranaweera.
Explaining the events on that day Mr. Ranaweera said that a crowd of around 250 people led by the minister came and said they had reserved the auditorium at the forest reserve for a meeting and also ordered food for the group as well but didn't produce any documents in support. They did not bring liquor with them but the Minster asked them to bring the liquor into the forest reserve, he said.
Mr. Ranaweera said that when the intruders were leaving, a group travelling in a cab stopped and called him and when he went up to them, they assaulted him. When a village youth who came there asked them not to assault me they assaulted him too, he said.
Meanwhile Minister Champika Ranawaka said the Ministry would take the matter further despite the political involvements.