TALLINN, (AFP) - An ancient pharmacy in the Estonian capital promises a sweet cure for broken hearts: an almond-based concoction dating from medieval times that claims to ease the pangs of love.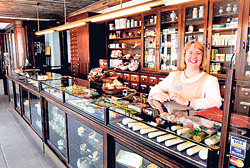 Noodapera at the drug store which first opened for business in 1422. AFP
"Since the Middle Ages a special marzipan prescription has been prepared and sold here for the heart to relieve the pain of love," said Ulle Noodapera, a pharmacist at the Raeapteek drug store which first opened for business in Tallinn's old town square in 1422.
It is believed to be Europe's oldest pharmacy, in operation for 588 years. "We keep making the special marzipan because the need for such a medicine has continued over the centuries, and patients with symptoms of love pain keep turning up seeking the cure," she added.
The ancient recipe is a jealously guarded secret. "It's not ordinary marzipan, but one made using a medieval prescription containing 72 percent almonds and 28 percent other ingredients that we will not disclose," Noodapera said.
One dose of the wonder drug weighs 40 grams (1.4 ounces) and costs just one euro (just over one dollar).