The dreams of thousands of children in the southern town of Debarawewa came true when SriLankan Cares presented Janadhipathi Prathamika Vidyalaya with a brand new building, which will enable them to study up to the Ordinary Level standard, the national airline said this week.
The Rs. 18 million project was carried out by SriLankan Cares, the community development arm of SriLankan Airlines, which raised funding for the project through assistance from various contributors.
The school in the Hambantota District has up to now had facilities to educate children only up to the 8th grade, and the new 7,500 square feet building will house 11 classrooms and a computer laboratory for students to study through Grades 9 and 10 and sit for the O-levels.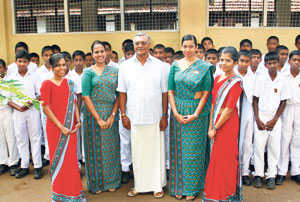 Picture shows Minister Chamal Rajapaksa with the students and SriLankan Airlines staff.
The building was handed over at a ceremony on January 18 in the presence of the school's 3,900 students, parents, and its 100 teachers. Chamal Rajapaksa, Minister of Ports & Aviation, Chief Guest at the inauguration, said: "On behalf of the Government, I thank SriLankan Cares for carrying out this project, and assisting our objective of building a brighter future for our youth."
Phase II of the project took just three months, and involved the construction of a 2,500 square feet third storey with 4 classrooms equipped with furniture, at an investment of Rs. 6 million. Phase I of the project was completed a year ago, and involved seven classrooms and a fully equipped computer lab at a cost of Rs. 12 million.
Manoj Gunawardena, CEO of SriLankan Airlines, said: "This project is the result of the dedication and hard work of the staff of SriLankan, who proved that one can do wonders if you have the determination to succeed.
The last two years have been extremely difficult ones for the global airline industry, and SriLankan too has suffered from a downturn in business, resulting in scarcity of funding for programmes such as this. But our staff were determined to complete the work that we started at this school, and saw this project through to the end by contributing their time and resources."