The Sri Lanka Association of Printers (SLAP) is organizing three of its major biennial concurrent events this year which includes the 'Collate 2010' International Printing Equipment Exhibition, Print Competition and 'Collate 2010' Print Awards Night, and the 'Collate 2010' Conference.
The 'Collate 2010' Conference will take place on February 18 with the inauguration ceremony of the exhibition, the International Printing Equipment Exhibition will take place from the February 19 to 21 at the Sri Lanka Exhibitions and Convention Centre, and the Awards Night will take place on February 20 at the Waters Edge, Battaramulla.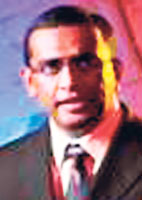 Sanjeev Mohan
The conference theme will be 'Exploring the Export Market' and four international speakers will be making speeches on 'How to Explore the Export Market', 'Meeting the World Demand for High Quality Standards', 'Prepress Solutions in Packaging', 'Future trends in Printing in the Digital Era', The Sri Lanka Export Development Board will make a presentation on 'How the Export Development Board assist to Exporters'. The objective of the 'Collate 2010' conference is encouraging Sri Lankan Printers on taking the local printing industry to the international arena.
"The plans for all three events are already underway. With regards to the conference we have already received the sponsorships and organized the speakers. The three day exhibition is scheduled to take place at the Sri Lanka Exhibitions and Conventions Centre, we are proud to say that this year we will be hosting 160 stalls which include 64 international stalls and 96 local stalls. Also we have 5 main sponsors and five co-sponsors in addition to media sponsorships. As the Project Chairman of SLAP, I am very happy to say that the entire team supported me in a big way, especially to sell the stalls. I request all the printers to visit this exhibition and hope that all fellow members will pass on this message to all concerned," said Sanjeev Mohan.
This exhibition is not only targeted towards the printing community but also will be highly beneficial for those individuals who wish to learn more about the print industry. In addition to the print related materials and machinery stalls, stalls featuring educational institutions relating to the area of printing, printing suppliers and much more will be showcased during the exhibition.
He said this exhibition is a good opportunity for the general public to get in-depth knowledge with regards to the print industry. "We are anticipating a total participation of around 8000 for the exhibition. With the intention of creating more awareness about the exhibition we are sending out postcards and in addition to this we are organizing an SMS campaign. Through networking awareness drives of this nature we hope to spread our message to the entire community," Mr Mohan said.