President Mahinda Rajapaksa last evening ended his public campaign for Tuesday's Presidential Election vowing to retain power and start his battle against corruption. Addressing his final rally in Piliyandala, he said, a well-reformed new health care system and a new education system would be introduced to the public in his next term.
"A People's Forum will be formed with graduates heading the Forum and public actively involved. The youth force of more than 200,000 will be strengthened. Provincial councils will be strengthened and a strong leadership will be given to them," he said.
He said the preferential vote system would be abolished as it has led to battles among politicians.
President Rajapaksa said that an ocean-based and air-based economy should be created with Sri Lanka being the main base in Asia.
He said that the International Monetary Fund has declared that Sri Lanka does not belong to the poorest countries. Meanwhile he ensured that media freedom would prevail under his rule. "Our ministers have already taken measures to provide lands to those who do not have houses. I take full responsibility for implementing the Mahinda Chintanaya," he declared.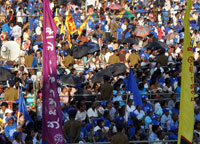 A section of the crowd at President Mahinda Rajapaksa's public rally in Piliyandala on Saturday. Pic by Gemunu Wellage
Kesbewa electorate chief organizer Minister Gamini Lokuge, Minister Rohitha Bogollagama, Minister A.H.M. Fowzie, Minister Dinesh Gunawardena, Minister Milinda Moragoda, Minister Bandula Gunawardena and Minister Jeewan Kumaratunga were present at the final rally.
President Rajapaksa addressed several campaign rallies in the final week. Addressing an election rally in Polonnaruwa the President asked the voters to join hands with him to rebuild the nation by giving him a resounding victory to uplift the future of the nation.
He assured that victory was already won and that from the 27th it would be a case of developing the nation in a peaceful atmosphere. " I received a nation that was split in two and it was I who reunited the country," he said adding that he terminated the war in a matter of three years in office.
Speaking at an election rally in Kotagala, the President said some people were attempting to create trouble to gain political mileage by misleading the estate sector voters and vowed he would not allow that to happen. He also said he would not betray the rights of the estate people.
He cited the 1977 election period where a shortage of boxes of matches and Lux soap was created to mislead the voters just as a rice shortage has been created today to misguide voters.
He said he would not give false promises adding that attempts are being made to split trade unions with a view to destroy them. He told the rally that he is aware of the shortcomings of the estate sector.
Speaking in Tamil he further said that January was the Pongal month and he would wish them prosperity all year round. He said it was time to forget language or ethnic differences and that he would not allow issues between various people to deter the development of the nation. He added that he has made several teaching appointments in the estate sector and would provide more facilities to bring comfort to their hard life by improving electricity, water supply and other facilities.
Speaking at an election rally in Dambulla the President said that, he used executive powers only to quash the Ranil -LTTE pact but while doing that he saw to the development aspect of the country too.