BRASILIA, Jan 22, (AFP) - A two-year-old Brazilian boy who had 32 sewing needles plunged into his body by his stepfather during black magic rituals left hospital Friday after a month of operations and recovery, a spokeswoman said.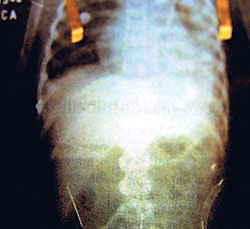 File TV grab taken on December 15, 2009 showing an X-ray of the stomach of a two-year-old boy who had 32 sewing needles inserted into his body. AFP
The boy, who was identified only by his initials M.S.A. because of his young age, left the Ana Neri Hospital in Brazil's northeastern city of Salvador walking on his own and without need of medication, she said.
His mother, Maria dos Santos, told local media she was relieved and had been afraid he might die.
The boy was admitted to the Salvador hospital on December 17, after doctors in his home town of Barreiras determined his life was in danger.
He underwent three complicated operations to remove needles that were close to his heart, lungs and liver. Around five of the slivers remain in less perilous parts of his body and are to be removed later in simpler, outpatient surgery.
The boy's former stepfather, 30-year-old bricklayer Roberto Carlos Magalhaes, confessed to driving the needles into the boy one by one, over a month, as part of a black magic ritual aimed at getting back at his ex-wife, the boy's mother.