KATHMANDU, Jan 22, (AFP) -Nepal's opposition Maoists have called off an indefinite general strike due to start on Monday, saying they wanted to give negotiations a chance to succeed, a report said Friday.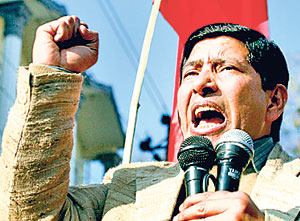 Maoist vice chairman Narayan Kaji Shrestha speaks to protesters near the Indian embassy in Kathmandu January 19. REUTERS
The Maoists, who waged a 10-year guerrilla insurgency against the state that ended in 2006, had threatened to shut the country down if their political rivals did not agree to form a national unity government by Sunday.
But on Friday they said they were postponing the general strike following talks with the two main parties in Nepal's coalition government.
"We decided to suspend the agitation programme as the efforts are being made to forge consensus," said party vice-chairman Narayan Kaji Shrestha, according to the eKantipur news website.
The Maoists won a general election in 2008, but quit the government last May after the president overruled their decision to sack the head of the army -- a move they said was unconstitutional.