"I have no words," says Dinesh Subasinghe. "I can't explain it. It's been amazing" he says simply, speaking about his experiences studying under musical maestro A.R. Rahman.
Dinesh is well on his way to carving his niche as an artiste. Having secured a place at the music academy run by A.R. Rahman and with a number of achievements under his belt, it is clear that this young musician will be one to watch in the years to come.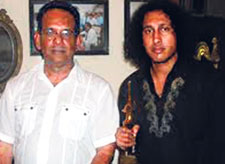 Dinesh with his award
In the process of studying various aspects of music, such as music history, theory, conducting and audio technology under reputed teachers, Dinesh's love for music constantly fuels him and urges him to set his standards higher.
"I love music and I don't like to generalize," says Dinesh explaining that his style of music fluctuates from rock, folk, classical and pop as opposed to limiting himself to one genre in particular.
Dinesh, who recently received an award at the SIGNIS (OCIC) awards ceremony as best music director for the teledrama 'Siri Sirimal' directed by Sunil Costa, explained that while studying at the academy he continues his commercial work as a full time musician. "We work and study from 8 a.m – 8 p.m at the academy. It is only after 9 in the night, that we do all our other work," he explained.
Dinesh is the first Sri Lankan member invited to join the South Indian Cine Musicians Union, and remains humbled by this accomplishment. Having composed music for 'Sundarai Premaya', an upcoming teledrama directed by Chandrarathna Mapitigama, Dinesh, speaking to the Mirror Magazine, explained that compositions for more teledramas and movies can be expected in the near future.
Dinesh remains modest about his many achievements,insisting that none of it would be possible if not for the encouragement and assistance received from numerous people who supported him in his endeavours.
Six months into his musical education in India at the popular K. M. Music Conservatory in Chennai, Dinesh has no qualms about following his passion and doing what he loves.
And what plans for the future? "I have an idea to work in both countries and I have plans to start a musical band," says the young musician.