Really, there are so many occupations you could pursue on mastering English and IT (probably more than you could even imagine....! ). Some people mistakenly believe that a degree in Business is a much more logical choice. But as an English and an IT literate you would always feel privileged and I presume your experience in achieving your English and IT proficiency at LBS will leave you with that sense of having accomplished something of lasting value that will stay with you for the rest of your life no matter what your career path could turn out to be.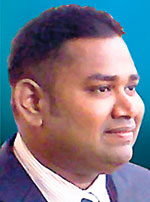 Mohamed Maznavi CEO- LBS
Applying for a new job is akin to entering a competition. The competition would be between you and every other person applying for the same position. The better and more popular the job the greater the competition; and the greater the competition - the tougher it would get to become selected.
It could be a harsh and a demoralizing world for a job seeker, as they'd have to do everything possible after their OLs like mastering English language and IT skills and progressing further with more advanced credentials, at every stage..... to increase the chances of getting shortlisted for interviews and selection. London Business School could find an apt answer for this dilemma for an OL qualified, as we have all what it takes to put you high on the path to progress and prosperity says M M Maznavi, CEO of London Business School in Sri Lanka.
This time around while you're busy with your OLs it could also be a time to look around for an exciting journey via LBS to becoming an international student and a fascinating future. We have tips, tools and advice to help you qualify as a Global Professional through universities anywhere in the world - right after your OLs.
The International Foundation Diploma (IFD) is one such. It's a pre-degree programme especially designed for OL students whose first language is not English and to develop their English language skills in writing, reading, note taking, group work and presenting while expanding their IT skills and prepare them for undergraduate study. IFD could mould you to successfully complete a degree education in Business Management, Computing and Information Technology or Travel, Tourism and Hospitality Management in a university in UK, USA, Canada or Australia, he explained.
One of the best possible things you can do to improve yourself and make you more appealing to your current and future employers is to learn a second language. Learning any second language will have many benefits, but learning English as a second language could have benefits that could be far beyond any other possible choices, possibly far beyond what you can even imagine learning a second language would do for you.
On completing the difficult task of learning English as a second language will not only make you more capable of connecting and communicating with millions and millions of people worldwide...... it will also open up many more opportunities for you to continue to further your education. If the saying, knowledge is power is true, then your true key to power could be learning the English language. The Certificate in Spoken English, Diploma in English and the Advanced Diploma in English found at LBS could help you in mastering the English language effortlessly, he feels.
You may not be the only one who didn't know that ABE (Association of Business Executive UK) is one of the most recognized British Management Qualification in Sri Lanka and that it provides you entry to the second and final years of a Bachelors degree programme in any university around the world. With relevant work experience you can fast track to an MBA.
ABE is a low-cost route to a university degree and could save you thousands of pounds. while giving you the skills to make a real difference in the workplace, from finance and accounting to marketing and management. These qualifications are recognised and accredited by QCA, the UK qualifications regulator. ABE have exemption arrangements with other professional bodies including ACCA, CIMA and BCS to save you time and accredit your learning, he continued.
Graduate Diploma in Business Management, Advanced Diploma in Business Management and the Diploma in Business Management awarded by Wigan & Leigh College of UK provides a multi-disciplinary introduction to the principles, problems and techniques of management. On completion of the programme graduates will * be able to use management techniques drawn from specialist disciplines, as Marketing, Finance, HRM, Entrepreneurship and International Business. * understand the nature of management, the complexity of organisations and how to manage change. * be numerate and aware of the benefits of statistical techniques in managerial decision making. * Work effectively in teams. And * be able to write succinct reports.
The programme has been designed to meet the needs of graduates who normally do not have a business and management background and who wish to develop skills in the full range of management disciplines. We expect students from a wide range of subject backgrounds to find this programme of value to them, he said.
LBS, perhaps may be the only professional education institution of its kind in the country having low cost, fast track UK Executive Diplomas for just about any discipline you'd wish to follow - HRM, Marketing, Project Management, Banking & Finance, Insurance & Risk Management, Psychology, Call Centre Management, Customer care Management, Financial Management, Travel Tourism and Hospitality Management, Production and Operations Management, Journalism & Mass Communications, the list is virtually endless from Wigan & Leigh College of a 150 year vintage and one of the largest state owned institutions of higher education in UK.
LBS has a vision - to become an undisputed leader in providing a world - class education at an affordable cost in the Asian Region and with a mission to making their students to be held in high esteem by employers worldwide for their superior skills. We assure that our courses are most modern, up-to-date and benchmark in quality. We have produced outstanding students holding forte in the corporate world here and overseas. We are proud of our 17 year record in the field of education said Maznavi, concluding the interview.