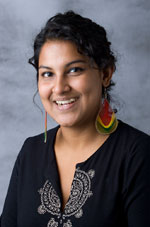 It has always been my dream to visit Africa. Growing up, what I knew about Africa was gathered from National Geographic and Discovery channels, and it was not until much later, I keyed in to the lively, original arts scene that seems part and parcel of African culture. When I was applying for the Watson Fellowship (granted by the Watson Foundation in USA), my mentor informed me about the The Grahamstown National Arts Festival in South Africa. Organized by the Grahamstown Foundation, this festival is the 2nd largest Arts Festival in the world (in terms of content, preceded only by the Edinburgh Arts Festival) and features over 400 events of drama, dance, music and film over ten days. Thus, I decided to begin my year-long exploration of the use of theatre in developing countries (for purposes beyond entertainment) in Grahamstown, South Africa.
The 2009 festival was held from July 2 - 11 and I attended over 30 festival productions, while being actively involved with 'Ubom! Eastern Cape Drama Company' (ECDC), a local developmental theatre company based in Grahamstown. After having experienced 10 days filled back-to-back with performing arts, I am convinced that if there is a heaven for theatre in the developing world, the Grahamstown Festival is a top contender.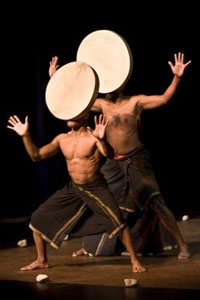 The quiet and intimate Grahamstown (home to Rhodes University, one of the leading universities of South Africa) transforms into a giant carnival for 10 days - the streets are lined with hundreds of stalls selling some of Africa's finest arts and crafts, clothing and food with clowns, people on stilts, giant puppets and thousands adorning the streets till the early hours of the morning. Performances are staged in any space that can seat more than 5 people, with every school/church hall and open space occupied to maximum capacity. It was inspiring for me to see how absolutely any space (from railway stations to stone forts, with some spaces only slightly bigger than an average room) can be very simply transformed into a performance arena. It proved to me that one does not require 'theatres' to perform - you can use any space for art.
The Festival functions in two parts - the Main Festival (which showcases companies and artists invited and sponsored by the Festival) and the Fringe (shows by various theatre companies/individual performers, financed by them). From the performances I attended, a handful stood out for their content, design and impact on their audiences.
The most striking theatre performance from the main festival was 'Something Dark' - written and performed by Lemn Sissay, directed by John E. McGrath. Sissay's piece was an auto biographical one man show about how he was put up for temporary foster care in England by his Ethiopian mother (who was an illegal alien) where the social worker re-named Sissay after himself (as 'Norman') and refused to return him to his mother. His British foster parents abandoned him at age 11 (where he was returned to social services) where at age 18 he received his birth certificate, with his birth name and mother's name on it. That propelled his search of his real mother and found her working for the UN in Africa, where she told him he was the product of a rape.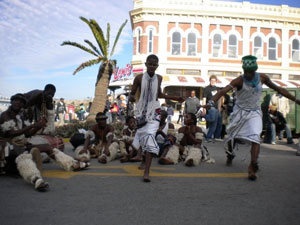 The performance was an hour and a half long, and was heightened by a very simple lighting design which played with themes of 'light' and 'dark' in the text. Each time Sissay said 'light' the lights would brighten and 'dark' the lights would dim. The simplicity of the design made it so effective as it truly highlighted Sissay's text. Sissay is a UK-based poet by profession so his text was liquid - beautifully composed words that ran seamlessly into each other so perfectly done that it mesmerized you.
His performance was flawless - I was on the edge of my seat for the whole 90 minutes. One of the things he said that carved itself into me was the racism he experienced in the small British town he grew up in - where as a black man, he could not hail a cab after 10pm. He narrated how once he hid behind a wall while his white friend hailed a taxi for him, and had to stay hidden while his friend arranged the trip with the cab driver. He expanded on this image of folding himself into himself, to hide himself - from outsiders and his own family through the rest of the play. Yet, it was his ability to find humour in such traumatizing events that really made this show one I would remember in time to come.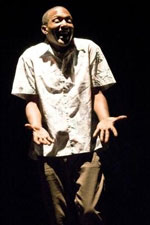 'Iago's last dance' written by Michael Van Graan stood out for innovatively staging the 'modern tragedies' of South Africa, focusing on current social problems such as HIV, intolerance of homosexuality and dealing with the ghosts of Apartheid. This play contained 3 acts (each focusing on one of the above issues), interlinked by the common emotions of jealousy and betrayal present in the classical tales of 'Medea' and 'Othello'. Van Graan dynamically taps the well-known classical tragedies to articulate present-day struggles, which is equally compelling to communities plagued by them.
This was one of the best 'current issues' plays I have witnessed, as it masterfully side-stepped the usual pitfalls of didacticism through a visually striking design and three powerful actors. The focus being on the relationship between these three individuals (as opposed to being on the issue at hand) made it personally impact its audience. Once again, I was fully engaged for the entire two hours.
'Blood Diamonds' was the only performance art show of the Main Festival and was conceptualized and directed by Brett Bailey - one of the leading performance artists in South Africa. He created a number of installation pieces (containing performers) in the Grahamstown railway station - where each installation highlighted a certain social reality that illuminated the inequality that exists between the white and black communities in Grahamstown. I experienced the sense of walking through a museum - adorned by live art. One of the most striking images were old black women who were pavement fruit sellers, where Bailey enclosed them in metal cages - to symbolize how they are trapped in poverty.
Another effective image was a choir made up of street people that were hidden inside cardboard boxes (usually used for warmth in the winter). The audience members were guided through the installations by a small street child, who took each member by hand and silently walked us through the entire exhibition. The railway station is right next to the cemetery, and the final image was of a black man seated on a gravestone, with a white man lying on his lap, both softly humming a tune.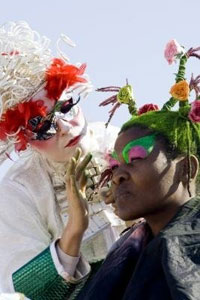 This image shows reconcilitation between the two communities close to the end of their journey. Most of the images just dramatized scenes from the daily life in Grahamstown - and yet were so striking when isolated and crafted in the way he did. This piece really struck me as a fantastic example how simplicity and reality are two of the strongest elements in powerful theatrical performances.
Many productions stood out to me from the Fringe Festival. 'The Swimming Lesson' by Ubom! ECDC directed by Andrew Buckland ( a pioneer of physical theatre in South Africa) and Brink Scholtz was a subtle, delicate piece about a black 'Xhosa' woman from the Eastern Cape, who comes to term with the personal loss of her child by going on a journey to the beach - a luxurious escape for any working class man or woman in South Africa. Through chance encounters with unique characters (struggling with their own realities) she realizes she is connected to these strangers in deep and unfathomable ways. An economical set created varied settings that articulated the comedy of every-day life in post-apartheid South Africa where people with diverse backgrounds are challenged to understand and accept one-another in a geographically segregated society.
'Every year every day I am walking' by Magnet theatre, directed by Mark Fleishman was a physical theatre piece about a mother and daughter who flee their country when their house is burnt and arrives as refugees in Cape Town. With minimal text and stunning choreography, this highly stylized piece moved many audience members to tears. The journey of the mother and daughter across borders were shown by shoes that the performers wore on their hands (baby shoes for the daughter and heels for the mother) which moved on a rectangular table to symbolize their long trek to safety. As the performance style of physical theatre is a novelty to me, I was surprised at how powerful the image of shoes become, as the entire journey of the characters are shown through these shoe puppets. Fleishman is renowned for his use of striking imagery and real elements on stage. "Every year…' used real fire on stage, which immediately jarred the audience into the world of the character and made us feel their terror. The two performers played all the characters and articulated each one through clear physicalization, assisted by the change of a simple costume accessory/prop. The moving imagery, use of natural elements and the cleanliness of choreography made this one of my personal festival favourites.
'Pictures of you' by From the Hip: Khulumakahle, directed by Rob Murray was an entirely non-verbal performance by two performers in full masks (designed by Janni Younge, who is awarded the Standard Bank Young Artists of the Year Award for Drama 2010). The play was about the dead-beat married life of a middle aged couple, interrupted by their unspoken fantasies and fears and was accompanied by a brilliant sound design (designed by James Webb). FTHK is a leading visual theatre company in South Africa who integrate deaf and hearing performers. Watching the play I felt like reading a picture book with no words - or like dreaming of a fantastical tale in your head. So cleverly executed, I was struck speechless by the creativity of these artists. I also became instantly aware that such non-verbal visual theatre has huge potential to travel beyond borders as it is accessible to any audience.
The highlights of dance programme were 'Ma Ravan' by Théâtre Taliipot from Réunion Island -four incredible male performers who performed a ritualistic tribute to their slave ancestors by dancing with 'Raban' - the traditional shallow drums used in South Asia. Slave hunters mutilated slaves who attempted to escape - the most common practice being to cut off their hands. The dancers paid tribute to the bravery of these slaves by beating the drums of life. As I had only previously seen rabanas used in New Year celebrations or by street performers in Sri Lanka, it was refreshing to see them used so artistically in a dance performance. The dancers revoked the brutality faced by slaves at the hands of their owners by repeating the names slaves were given - names such as 'good teeth' or 'flesh' that reduced them to owned property. It was an extremely personal piece to the performers - and thus touched their audiences deeply.
The spectacular street theatre performances deserve a quick mention as well. 'Osadia' was a group of professional hairdressers from Spain who set themselves up on the street and create outrageous hairstyles on people they pick off the street. The lucky members of the public who were picked walked around sporting couches, castles, animals and other innovative hair accessories. The giant puppets were another great creation from a puppeteer from France ('Les Grandes Personnes'), where he trained a diverse group of skilled professionals (carpenters, hairstylists etc) to create these gigantic puppets. The puppets delighted children and adults alike and I liked them most because you could see how they were handled - the puppet rested on the shoulders of the puppeteers, making them visible to the audiences.
Overall, the National Arts Festival left me with immense inspiration to what roles the arts can play in developing countries. Ninety percent of the works featured at the Festival was South African - a remarkable feat where multiple artistic voices are provided a local platform that has gained international recognition in the world. Such festivals encourage and support artists to find innovative, theatrical means of narrating current realities to audiences - a key element to ensure to people's voices are heard within and outside a country. In spite of the usual political, social and economic challenges present in developing countries, I admire South Africa for recognizing the arts as a dynamic tool of change, and salute the untiring artists for keeping their works fresh, healthy and alive.
Sulochana Dissanayake (St. Bridget's Convent '05, Bates College '09) was awarded the Watson Fellowship '09/'10 for an year long exploration of contemporary theatre in developing countries. She is currently living and working in Cape Town, South Africa. After the fellowship, she plans to return to Sri Lanka to pursue devising original theatre that reflects current realities, and is keen on collaborating with any interested individuals. Comments/suggestions can be forwarded to sulochana_86@hotmail.com.