When Andrew Marvel famously wrote "deserts of vast eternity", little would he have envisaged the verse so sweetly stretched. But here's the season to be jolly and roly poly. Although, it seems a perennial pre-occupation in Colombo- notwithstanding fervid protests of perennial diets...
But dessert is the loveliest part of a meal, I say. So hit the finest dessert buffets in town! It is with the profoundest concern for your hips and hearts that I restrict recommendations to streamlined sweets. New Year's Eve is approaching and whilst it is quite alright to turn into a pumpkin at midnight, it is probably best not to arrive at the ball looking like one.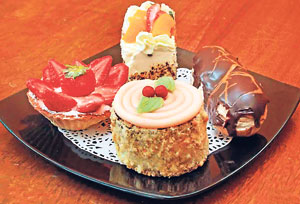 Galadari sweet treat
Spices, Hilton Colombo: Quite possibly the most popular buffets in town, judging by the throngs during Saturday Indian night or Sunday brunch. Indeed, the former is sheer insanity: Think 150 diners competing for 120 covers. The buffet queues extend like waistlines and by the time you get to the food you might have grey hairs. Little wonder then, or because Hilton Colombo's Pastry Chef Gerard Mendis puts on the most astonishing spread in an enclave dedicated to just desserts, guests root themselves before the sweet sensations.
Entire satin-textured cheese cakes -and nobody does them better than Hilton, just as the hotel's mouth-melting ribbon cake remains unrivalled- literally vanish and are replaced and re-replaced. For Chocolate Devil's cake, fruit tarts, brownies, profiteroles, the most incredible crumbly nut cake overpower any attempt at resistance. A tourist remarked, "They make such wonderful cakes here." It is only then that I investigated and learned that Gerard Mendis is a famous chef, not just in Colombo but with a list of prestigious international awards as extensive as his dessert buffets, not to mention President of the Culinary Guild of Sri Lanka (incidentally, the pinnacle of the country's gastronomic hierarchy).
Union Bar & Grill, Hilton Colombo Residence: Perhaps Colombo's sweetest kept secret. Amongst the healthiest too. Director of Operations Karim Schadlou agreed that Colombo likes them inordinately sweet. However, catering to an international palate he has requested New York-trained Pastry Chef Withana to reign in the sugar quotient. Unsurprisingly, Chef Withana, American Culinary Association's Gold Excellence award-winner, sells over a dozen cakes/day at the Pit Stop. I remarked, "The cakes look good." Mr Schadlou riposted, "They even taste good!"
Cool, casual UBG mightn't be the place to see and be seen. But the advantage is that nobody will catch you in flagrante delicto, stuffing your face unabashedly. Over their Friday night Italian or Saturday night Mediterranean buffets I applied myself to the desserts. The array includes four chocolate cakes- they are actually different in flavours and feels and made with fine chocolate. The best chocolate mousse in Colombo too. Try the fab ricotta cubes and fruit and nut Philadelphia cheese shots. My favourite: a chocolate-laced marzipan cake. I was good and restricted myself only to three pieces…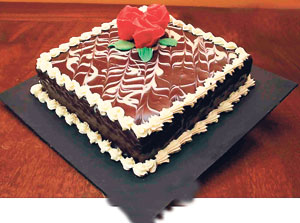 Cinnamon Lakeside goodies
The Dining Room, Cinnamon Lakeside: The swankest coffee shop does dinner buffets and Sunday brunches to showcase their desserts, very good-looking if a tad sweet for my taste. Signature specialities are the must-do Monte Cristo, Domino and brownies, permutations and combinations on a chocolate recipe. I have not quite distinguished between them, but in whichever guise they have been presented, I have enjoyed these death-by-chocolate pastries.
The Lounge offers its own Dessert buffet. Ask 20-year-old intern Whitney de Fontaine, as professional as she is charming, to make top-notch Crepes Suzettes with fresh orange juice and dark rum. But miss not the clove and lemon ice cream on the new spiced ice cream menu. This virtually sugar-free delicacy marrying seemingly incompatible flavours is inspired - subtly zesty, wonderfully unctuous. To me, Chef Jagath Wijesinghe's innovation is the icing on the cake. I mean the ice cream on the cake...
The Coffee Shop, Galadari: My first encounter with the excellence of pastry Chef Nimal Fernando (who trained at Mumbai's Taj Mahal Palace and Singapore and competed in Geneva) was at a cocktail at the Galadari not long ago. Much to the consternation of myself (and others) I could not stray from the dessert platter. I must profess myself a great fan of the joyous Chef Fernando's chocolate cake and ribbon cake, so tender to the touch. As for his cinnamon and apple pastries, wow! Admittedly, the desserts are overly sweet, but they exude such richness and good-heartedness (yes), that you must indulge, alas...
Lattitude, The Taj Samudra: Their just-launched Sunday brunch at Rs. 999 is the best deal in town. As good, the nightly themed buffets. Discover Colombo's finest éclairs, not cream-oozed. They also offer extremely good sponge cake, biscuit creams and gorgeous little ginger pudding parcels. Taj has a secret recipe for curd, extraordinarily textured. A revelation. They even serve it with bees' honey so it's more akin to Greek yoghurt.
Executive Chef Dhaithya Krawage with extensive international experience, especially at jet-set abodes like the French Riviera's celebrated Hotel du Cap, recently presented his Christmas goodies which will run into January. He insists on a local twist to recipes using arrack and other indigenous produce. For those who don't want to break the silver slippers before the New Year's Eve Ball, stock the spice-laden ethnic Christmas cake for the Sri Lankan New Year and the very lovely love cake for Valentine's- you might just get away with love handles then...