The worst and the best!
This is how Dr. Sian Hughes, a paediatrician from Melbourne, Australia describes the traumatic but at the same time fulfilling experiences of not only Boxing Day when the tsunami hit Sri Lanka but also the days after when having rushed up a hill at Unawatuna they set up a temporary centre to look after the injured.
Dr. Hughes, her husband and three children were holidaying at Unawatuna and had spent a lovely Christmas on the beach with a Sri Lankan family running a tiny restaurant there.
"Everyone was so happy that day," says Dr. Hughes, for earlier the Sri Lankan family had been grappling with some financial issues. Their little daughter was due to begin school the next year and they wanted to send her to a school which in Sri Lankan terms would cost a lot of money.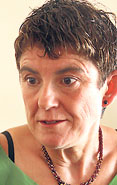 Dr. Sian Hughes
Dr. Hughes's family had promised to send them that money because her children, two girls aged six and 10 and a boy of 11, had made friends with the little girl and her younger brother. It was the perfect ending to Christmas Day — the spirit of sharing.
Next morning was bright and sunny, with not even the slightest indication of the impending doom that would leave nearly 40,000 men, women and children dead and a wake of debris and destruction.
They were about to have their breakfast, having taken a walk on the beach, for they were planning to drive down to Mirissa. Her husband was upstairs in the Dutch villa that they had rented for their seasonal holiday and she was downstairs, when suddenly he yelled that a wave was bearing down on the house.
"I rushed to get my handbag," says Dr. Hughes, now calling it "foolish" and scrambled upstairs just as the wave hit and the ground floor collapsed. For the moment her family was safe. If they had been in the car on the way to Mirissa, she says, they would not be alive today.
As the water level rose and came up to the balcony, they scrambled on to the roof and as the wave receded, others hurried to where they were, for all around them homes and buildings were collapsing.
Shadows cross her face as she talks about a Dutch family who joined them - a father, mother and two boys, one with a long gash down his forehead.
As Dr. Hughes attended to the boy, his mother was by his side. From her came this "terrible primeval sob" for she had let go her tiny baby boy whom she was hugging close, when a wall collapsed on her. She couldn't cry because she had broken some of her ribs, says Dr. Hughes recalling the agony of that moment even five years after.
That mother is still traumatized, she says, for they have become close friends and the Dutch family had visited them in Australia, with a newborn. "But she has not got over the other baby's death and the fact that she let go. She has not come to terms with herself, even though she couldn't help it." The little boy's body had been found stuck among some barbed wire.
For Dr. Hughes, when people were shouting for a doctor, it was easier to be "a doctor than a mother" and that's what she did, organizing a temporary medical centre up on a hill, with her own six-year-old and 11-year-old acting as assistants. "They were fantastic but my 10-year-old daughter, who is an excellent violinist, was hysterical," she says pointing out how trauma affects people in different ways.
The Sri Lankan family whom they had befriended too had their share of troubles but at the same time a "miraculous escape". Running ahead of the rushing waters, the two children had had their paths obstructed by the canal, only to find a fishing boat being swept towards them and getting stuck right at that point so that they could climb on it and step to safety on the other side.
That family lost everything and has now relocated inland at Embilipitiya, leaving their hard but happy life behind at Unawatuna. Children are resilient but the mother has not been able to adjust and has numerous health issues, according to Dr. Hughes.
After the waves receded, many were the bodies scattered all over, with dogs sniffing around and it fell to the people in the clinic to gather them up in a pile, she says.
A few days after the tsunami, when the roads were cleared the Hughes family made their way to Kitulgala where …… "it was like heaven, with clean beds, fish and chips" whereas earlier they had lived on bananas.
Dr. Hughes who has paid many visits to Sri Lanka since then laden with gifts and spent along with her son, now a 16-year-old (who wishes to work at Seenigama, the scene of the train disaster in his gap year) Boxing Day with the Sri Lankan family at Embilipitiya, confesses she has learnt many a lesson from the tsunami.
Material things are not important. Life is fragile, so value your relationships, she adds.