Opposition Presidential candidate Sarath Fonseka has pledged to provide prompt relief to aggrieved depositors of Golden Key (GK) Credit Card Company if elected. He told a meeting of GK depositors in Colombo that a solution to the problem of suffering depositors will be evolved in consultation with financial experts and eminent bankers of the country.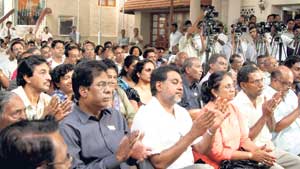 The depositors
Around 200 depositors converged on Fonseka's office on Wednesday to discuss the issues He noted that the offering of treasury bonds to depositors will also be considered as a solution. A vast sum of money deposited in the company cannot evaporate into thin air, he said.
This money is in circulation here in Sri Lanka or overseas and the responsibility of the government is to trace it and seize it, he added. But this government has failed to fulfill its duty of serving the people who were in trouble due to the collapse of the financial institution as result of the economic downturn and mishandling of the economy.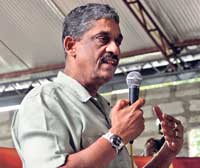 Sarath Fonseka addressing the depositors
Gen. Fonseka further noted that he is not willing to take political advantage out of the present plight of GK depositors but he is keen to know their suggestions to resolve the problem. He assured that he will set up a separate unit to entertain such suggestions and requested them to forward it in writing.
The country had to face many problems owing to this economic downturn which resulted in high inflation and the depreciation of the rupee. Gen. Fonseka said that he does not believe that a vast sum of money had been defrauded by company officials.
Golden Key collapsed not due to the payment of high salaries to top officers of the company. The present government has failed to intervene in this matter and the authorities had allowed the problem to aggravate for reasons best known to them, he added.
JVP Parliamentarian Sunil Hadunnetti said that the GK depositors issue has been brought to the notice of parliament which is the country's legislature with powers of controlling monetary and fiscal policies but no action has been taken because the President is the finance minister.
He added that Sri Lanka's monetary policy has become a Rajapakse family affair and this was not a secret to the people of this country.