Nearly a year has passed since the collapse of Golden Key (GK) Credit Card Company and other finance and real estates companies in the Ceylinco Group but indictment is yet to be framed against Ceylinco Chief Lalith Kotelawala and other directors.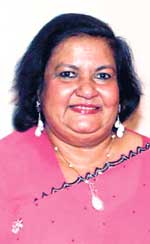 Sicille Kotelawala
Investigations are still continuing in the case that is proceeding in the Mount Lavinia Magistrate's Courts, Attorney General's (AG's) Department sources said.
The Criminal Investigation Department (CID) is conducting investigations into the financial fraud and the illegal accumulation of funds in foreign countries by some directors but they have not been able to make a major breakthrough as yet, a senior CID official said.
He said the CID has sought the support of the Interpol to trace the foreign bank accounts of the company but so far no communication has been received from them.
The CID has received information that Deputy Chairperson of Ceylinco Group (Consolidated) Sicille Kotelawala who fled the country in December 2008 to Singapore and is evading an international manhunt has sought shelter in Spain and this information was conveyed to Interpol.
Eleven suspects including Deputy Chairman Khavan Perera are in remand custody in connection with the alleged GK fraud.
These suspects are not extending their assistance for ongoing investigations, he said adding that Mr Kotelawala is also not making any statement with regard to the whereabouts of his wife Sicille who has been named by Interpol as a most wanted person in Asia.
While the preliminary inquiry in the GK criminal misappropriation case is being heard at the Mount Lavinia Magistrate's Court, there is no time frame or deadline to file charges against the suspects, and this will be done only after the completion of the inquiry, counsel for the prosecution and officials of the AG's Department said.
These cases could be continued for several years without framing charges against the suspects as the law does not stipulate a dead line, they said.