PERUGIA, Italy, Dec 5 (Reuters) - An Italian court sentenced American student Amanda Knox to 26 years in prison on Saturday for murdering her British roommate in a drunken sex game, in a case which has drawn huge interest in Italy and abroad.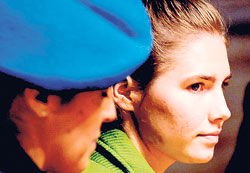 Student Amanda Knox, accused of taking part in the killing of British student Meredith Kercher in 2007, looks on during a session of her trial on December 4. AFP
After an 11-month trial in the Italian university town of Perugia, Knox, 22, was jailed for the murder and sexual assault of British student Meredith Kercher. Knox's Italian ex-boyfriend Raffaele Sollecito, 25, received a 25-year sentence for his part in the November 2007 killing.
Knox burst into tears and hugged her lawyer as a judge read the verdict to a court packed with media, many from the United States and Britain. An impassive Sollecito turned and looked at his family as his stepmother shouted: "Be strong, Raffaele!" Lawyers for Knox and Sollecito said they would appeal.
"There is contradiction between the weakness of the proof and the gravity of the crime," Knox's lawyer Luciano Ghirga told journalists on the steps of the courthouse. "This was a crime with no motive ... Amanda is desperate." Asked if he would fight on, Knox's father Curt replied:
"Hell yes." Both Knox and Sollecito have maintained their innocence. Knox told the court during closing arguments on Thursday she was "afraid of having the mask of a murderer forced upon me".
| | |
| --- | --- |
| | |
| Meredith Kercher | Raffaele Sollecito |
The American student, from Seattle, was accused of masterminding the killing of 21-year-old Kercher, who was found semi-naked with her throat slit in the bedroom of her apartment in Perugia, where she was doing a year of overseas study.
Prosecutors sought life terms for Knox and Sollecito, but a jury handed them lesser sentences after 14 hours of deliberation because they were young and had no criminal records. After the verdict, they were whisked from court in police vans to the prison where they have spent the past two years.