PESHAWAR, Pakistan Dec 5 (AFP) -A blast near a fast food restaurant in northwestern Pakistan today killed at least two people, officials said, a day after militants killed dozens at a mosque near the country's military headquarters.
"The initial investigation suggests it was a car bomb blast in which two people were killed and nine wounded," senior local government official Sahibzada Anis told Reuters.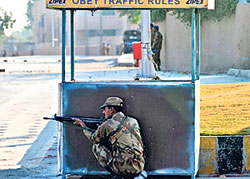 Pakistani soldiers take position outside a besieged mosque in Pakistan's garrison city Rawalpindi on December 4. AFP
Pakistan's army, which heavily supported militant groups in their war against the Soviet occupation in Afghanistan, now faces a stubborn Taliban insurgency on its own soil and mounting U.S. pressure to root out Islamist fighters in tribal border areas.
A senior police officer, Shafqat Alam, said the Peshawar blast may have been accidental, possibly ignited by paint stored in a shop. Foreign Minister Shah Mahmood Qureshi condemned the latest wave of violence and said Pakistan's will would not be broken.
"Such reprehensible acts can never defeat our national resolve to fight out terrorism and militancy," he said in a statement on Saturday.
On Friday night, up to 40 militants attacked an army checkpoint, killing one soldier, a security official said. Soldiers at the checkpoint on a bridge in Wana, the main town in the Islamist bastion of South Waziristan, retaliated after coming under fire, said the security official.