Gunadasa Amarasekera, the outstanding figure in Sri Lankan literature after the great Martin Wickramasinghe, completed his 80th year on November 12. The previous week he was felicitated by his old school at Yatalamatta (his birth place), close to Baddegama in southern Sri Lanka, where he read his first letters. Teachers and students were honoured to have such a distinguished old boy visiting them.
Dr. Amarasekera is a novelist, short story writer, poet, literary critic and essayist. A dental surgeon by profession he retired having been the Director of the Institute of Dentistry.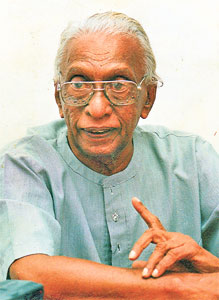 Gunadasa Amarasekera
From the village school he moved over to a bigger school in the nearby town Baddegama before coming over to Nalanda Vidyalaya in Colombo. As a student at Nalanda he submitted a short story to a world short story competition. This was in the early 1950s. His story 'Soma' was selected to represent the country at this competition organized by the New York Herald Tribune. It was published in the collection of World Prize Stories in 1952. This was the beginning of his illustrious literary career that spans over 50 years.
His first collection of short stories 'Rathu Rosa Mala' was published in 1953. It included the prize winning story 'Soma'. Mid fifties saw him busy with his creative writings. His first collection of poems 'Bhava Gita' and his first novel, 'Karumakkarayo' were published in 1955. The latter led to a lot of discussion and was a new experience for the Sinhala fiction reader. It won a coveted award of the day – Don Pedris Award – and was later made into a film by the renowned filmmaker Tissa Abeysekera.
His second collection of short stories, 'Jeevana Suwanda' (1956) was followed by 'Uyanaka Inda Liyu Kavi', a collection of poems the next year. This was the time he was at the Peradeniya
campus as a dental student.
To date he has written 14 novels and released nine collections of short stories and six collections of poems. Among these are several works which have won recognition winning the State Literary Award ('Gurulu Vatha' 1962; 'Ektamen Polovata' 1972; 'Avarjana' 1975).
In 2002, the English version of two of his novels titled 'Out of the Darkness' won the Gratiaen Prize, the prestigious annual award for creative writing in English by Sri Lankan writers started by the Sri Lankan born Canadian writer, Michael Ondaatje named after his mother Doris Ondaatje nee Gratiaen. The Sinhala novels were 'Asathya Kathawak' and 'Premaye Sathya Kathawa'.
Beginning in the mid-1970s, he ventured into a field of social, cultural and political criticism and continues in his role of social activist and commentator. His seven-volume narrative 'Gamanaka mula' examines the evolution of middle class Sri Lanka and enunciated the concept of 'Jaathika chintanaya' (national
consciousness).
A unique happening during his 80th year was a continuous programme of critical appreciation of his work arranged by his publisher, Visidunu Publishers. A series of seminars were held in several places including Peradeniya University, where leading academics spoke of his contribution to literature and made critical evaluations of his creative effort. The last of the seminars is due to be held in December.